Perhaps the absence of Apple CEO Steve Jobs, or any hint of his existence, will go down as the biggest disappointment of this year's WWDC conference in San Francisco. But it may be on the top of a list of more than one item, and down that list not too far behind Jobs' no-show, there is this news: The final release version of Safari 4 is not the fastest Web browser on Windows, despite what SVP Phil Schiller told attendees today.
The last public build of the Safari 4 beta revealed a curious slowdown in Windows 7 RC versus Windows Vista SP2 -- about 22% less rendering and JavaScript processing speed overall in Win7. That problem has apparently been rectified in the final release, with Safari 4 build 530.17, released this afternoon by Apple, scoring 21% better than the final beta build 528.17 in Win7.
But in an amazing change of fortune for Apple, Safari 4 on Vista SP2 slowed down dramatically by 20%, meeting the Win7 figures halfway. In Betanews tests this afternoon, Safari 4 posted a performance index score of
12.11
in Vista SP2, tucking the new browser back in third position behind the stable release of Google Chrome 2.0.177.1 at
12.23
, and
12.24
for the beta release of Chrome 3.0.182.2.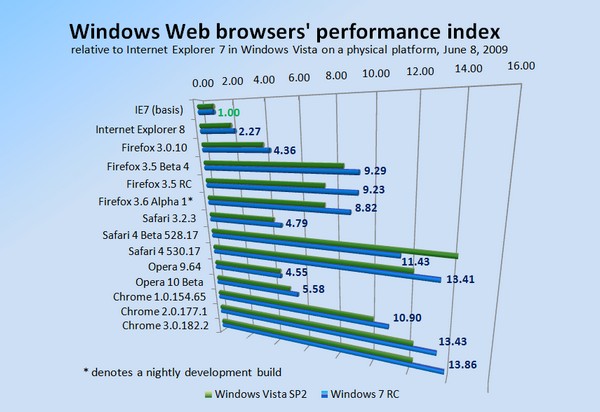 And while Safari 4 now runs 13% faster on Win7 than on Vista, instead of the other way around, its index score now falls behind Chrome 2 by mere hundredths: a
13.41
versus Chrome 2's
13.43
and Chrome 3's
13.86
. This despite Chrome 2 and Safari 4 posting 100% scores on the Acid3 standards compliance test, which makes up 25% of our index score.
International Business Times