Couple of week back I bought a HTC magic for Rs. 26,000 from a neighborhood retailer. Technically this is my second Android phone the first was a self flashed
Openmoko's Freerunner
. The piece I have is an imported set from Vodafone UK. In India the same handset is available through Airtel but without Google goodies including Android market [Edit: Firmware update not only enables market but also Sense UI]. This omission is a mystery to me. No one buys a Rs. 27K phone only for making calls and sending SMSs.
This is not a review. But once you power-on the device it's Google all the way. IIt comes pre-loaded with Google maps, Google Chat, Android Market Place, e-mail client. Sooner or later there will be an Android phone for everyone . I will set the ball rolling with lots of pics. So here we go:
Unboxing
:
Few screenshots: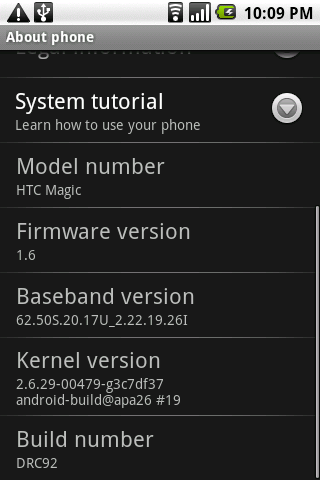 Looks like I've exceeded the quota of images. Please share your views and thoughts.
Resources
Planning to flash new ROM on your phone of the first time? Read this first.
Guide to rooting, hacking flashing your HTC G1 phone (should work for other HTC phones too)
Best hand picked ROMs for HTC Magic (32B versions):
[ROM][BBQ] CyanogenMod-6 for Dream & Magic - V6.0.0 (08/28/2010) - xda-developers
Cyanogen 5.0.7 Beta ROM (Android 2.1)
SuperEclair ROM (Android 2.1)
Cyanogen 1.6 Donut ROM-Final
SuperD 1.6 Donut ROM
Fastest HERO ROM for your HTC Magic
Till next time!!! Bye...
Last edited: