Amazon Kindle: What I like, and What I Don't !
​
About 2 months back, I bought Amazon Kindle from ShopYourWorld's eBay shop. Now that I have spent considerable amount of time with it, I would like to share my experience with you.​
What I like about the Amazon Kindle:
​
The Form Factor : It's light-weight, slim and very easy to carry around. Inspite of it's B/W Display, It manages to catch everyone's attention.
The Display : The E-ink Display soothes the eyes. No Glare. No Parallax. Pictures are displayed perfectly. Believe me, reading experience on Kindle is as good (IMO, better) as reading from a printed book.
Sharp, Crisp Images​
Battery Life : Thanks to the E-ink Display, on a Complete charge (that takes about 4 hours), the Kindle survives 20 days of regular use. I rarely turn on the Wi-Fi,though. With constant use of Wi-Fi, the kindle shall only last 5-6 days.
In-Built Browser : Even though this feature is experimental, it does the job verywell. You can check your emails, Facebook, etc. You can always perform a Google Search or access Wikipedia. And yeah, it also features a text-only Article Mode. It could have been better, though.
In-Built Dictionary : I often come across words that I haven't ever heard. The in-built dictionary (Oxford Dictionary of English) really proves to be helpful. I can instantly look up the definition without leaving the book.
Instant Lookup​
User - Interface : The UI is very basic & simple. Navigating around is no trouble at all. You can organize your books into various collections to easily access them.
My Kindle's Homescreen​
Apps : Handful of useful Applications like Calendar, Notepad, Sticky Notes, Calculator, Stopwatch, etc. are available for Kindle. Popular games like Chess, Scrabble, Hangman, etc. are also available. Since I don't have a phone (Yeah, not yet!), these apps & games really prove to be handy. Even though these apps are only available for US Customers, anyone can get 'em easily by switching his/her location to US.
Other Features I Appreciate:
Kindle has got decent speakers & you can also play MP3 files or Audio-books. It also features a 3.5mm Audio Jack. But the MP3 player has got many limitations. The order of Songs cannot be changed & you can't pickup a song you feel like listening.
The Font size, Typeface, Line Spacing &Words-per-line can be adjusted according to our need.
You can password-protect your Kindle if required.
You can buy books from the Kindle Store on Kindle itself.
By using the QWERTY keyboard, you can add annotations to text, just like you might write in the margins of a book. You can also post meaningful passages to your social networks from Kindle itself.



What I Don't like about the Amazon Kindle:​
Reading in Dim-Light : Reading in Dim-light with the Kindle is pain. It is easier to read from a printed page in dim-light. Optional backlight would have proved to be a boon.
Connecting via Wi-Fi : The Wi-fi does not connects easily. Often, I need to tweak some settings or connect manually. Also, Wireless-N routers don't work for Kindle.
Debit Cards do not Work : Debit Cards do not seem to work on Amazon.com for purchasing Books, Apps, etc. However, Credit Cards work.
Reading PDFs : Reading PDFs on Kindle is pain. Sometimes, the Kindle freezes when I try to skip some pages quickly while reading PDFs. It would have been great if custom zoom was possible. There are only 3 zoom-level choices available while reading PDFs. However, switching it to landscape mode solves the problem. Still, the PDF reader needs to improve a lot.
​
Page-turning Buttons : In my opinion, there was no need to place page-turning buttons on both side of the Kindle. If they had just placed the Next-page button on the right side & Previous-page button on the left side, it would have been perfect.

​
​
No Custom Screensavers : The Kindle does not allows us to personalize the Screensavers. Various hacks allow you to add custom Screensavers. But, As of now, the hacks don't seem to work on the latest firmware. I just can't understand why don't they implement such a simple feature. So, I'm stuck with the boring stock Screensavers.
Text-To-Speech Sucks : The TTS feature simply sucks. I hate the lifeless voice.
What I would like to see in Future Updates:
Now that Amazon owns Shelfari, I would love to see Shelfari integrated with the Kindle.
An Improved PDF reader with Custom Zoom.
An improved Web Browser & MP3 Player.
Official PC Suite
Faster Page-Turns
______________________________________________________________________
Calibre, a Boon!
Calibre, an E-book Management software available for Windows, Linux & Mac fulfills the need of PC suite for Kindle. Calibre is Free & Open-Source. With Calibre, you can manage your collection, convert E-books to Kindle's native format, etc.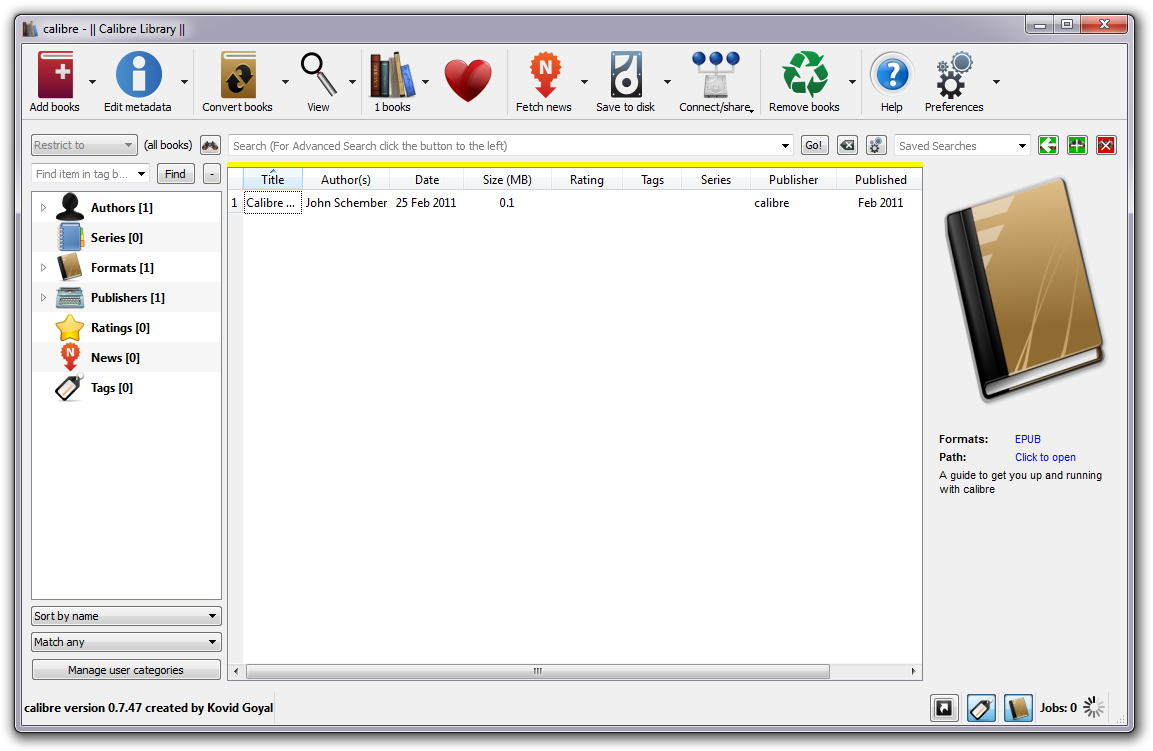 I would like to thank Kovid Goyal & his team for such a beautiful piece of Software.
Calibre can automatically fetch news from websites or RSS feeds, format the news into a ebook and upload to a connected device
.
​
Last edited: