I purchased an original wired 360 controller from ebay for Rs 2.1k..
For a while now, it had been working great but recently, it keeps disconnecting and reconnecting endlessly until I hit a BSOD
If I plug it in my laptop, no such error occurs and the controller works fine..
I really dont wanna submit a claim to the seller, what are the chances that the controller is the culprit ?
- - - Updated - - -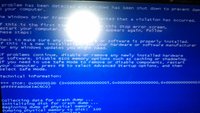 - - - Updated - - -
Ive tried uninstalling the 360 drivers and installing again, same thing..