My rig is in my siggy.
Heres a screen shot of the error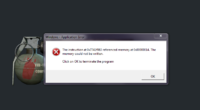 I was just browsing on facebook when this happened.
Only recent changes i made are installing avast and unisalling avg.
This is the first error of this sort that i have received on this pc or rather any sort,error free since one year!
What to do?