My 3 Lakh Rig [Low Bandwidth Warning]****Omni GTX 470 Review**** Added...
**********************Thread is still in Progress and uploading slowing..so it takes time to post all images****************
Hello My Friends, How are you Guys?
NOTE:
I am posting this Thread for Tech Lovers like me but not to Boost or any other show off... So please show some Respect and Enjoy this Thread.
Feedback and Comments are most welcome...
If any advice regarding my Rig or suggestions to make my PC Better are most welcome... I am just a normal Person who likes Computer Hardware so much...
I admire, Pray and Love Hardware
. It's the Only thing I love Most apart from my Real Life friends and Families.
Finally ,I am able to post a separate Thread for my System. This thread includes my updates with Pictures and If possible Videos too...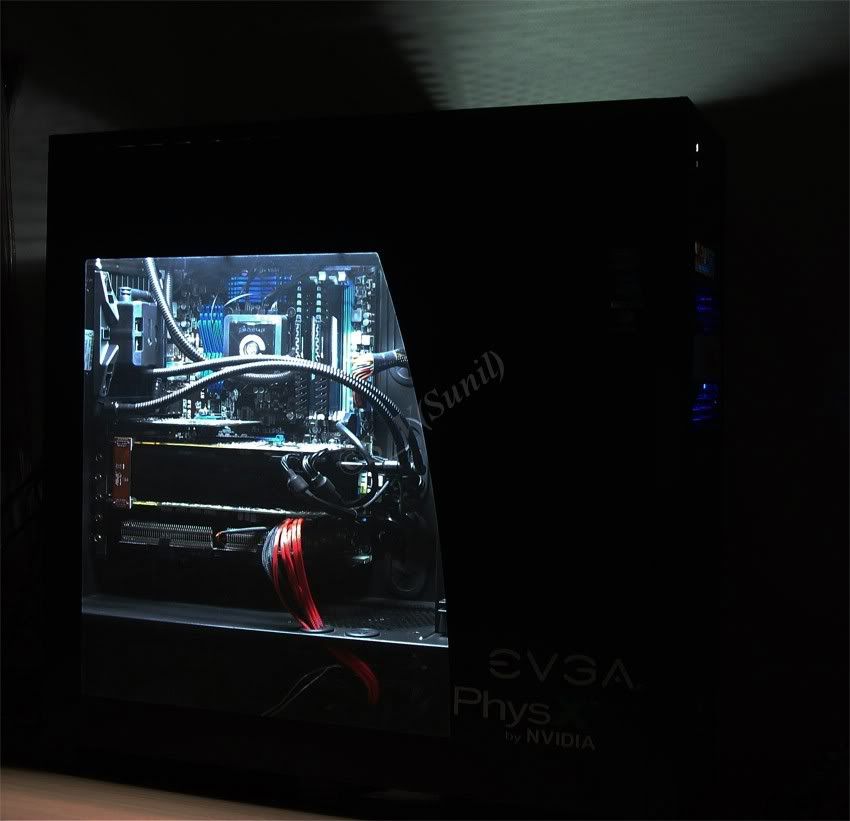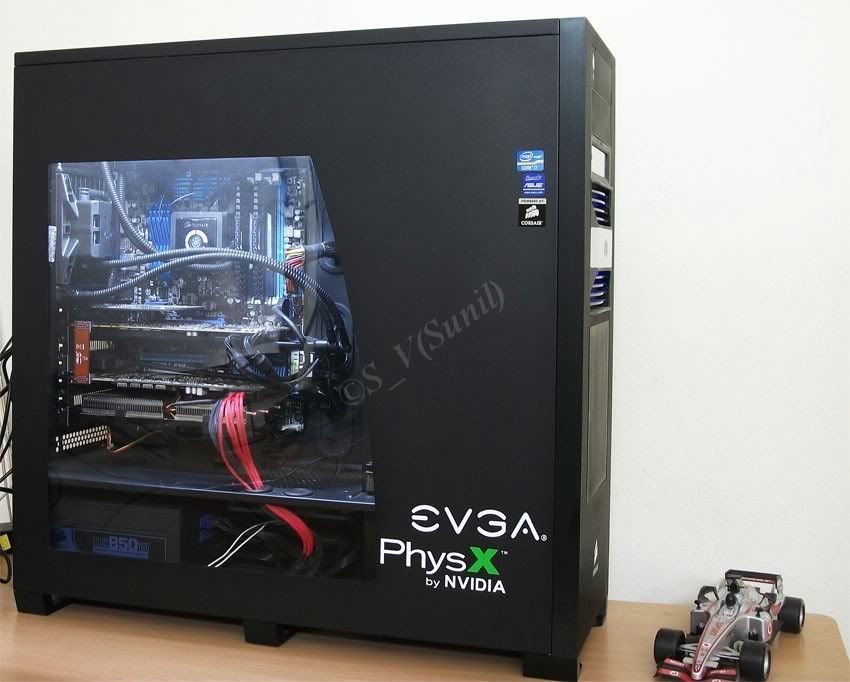 OLD PHOTO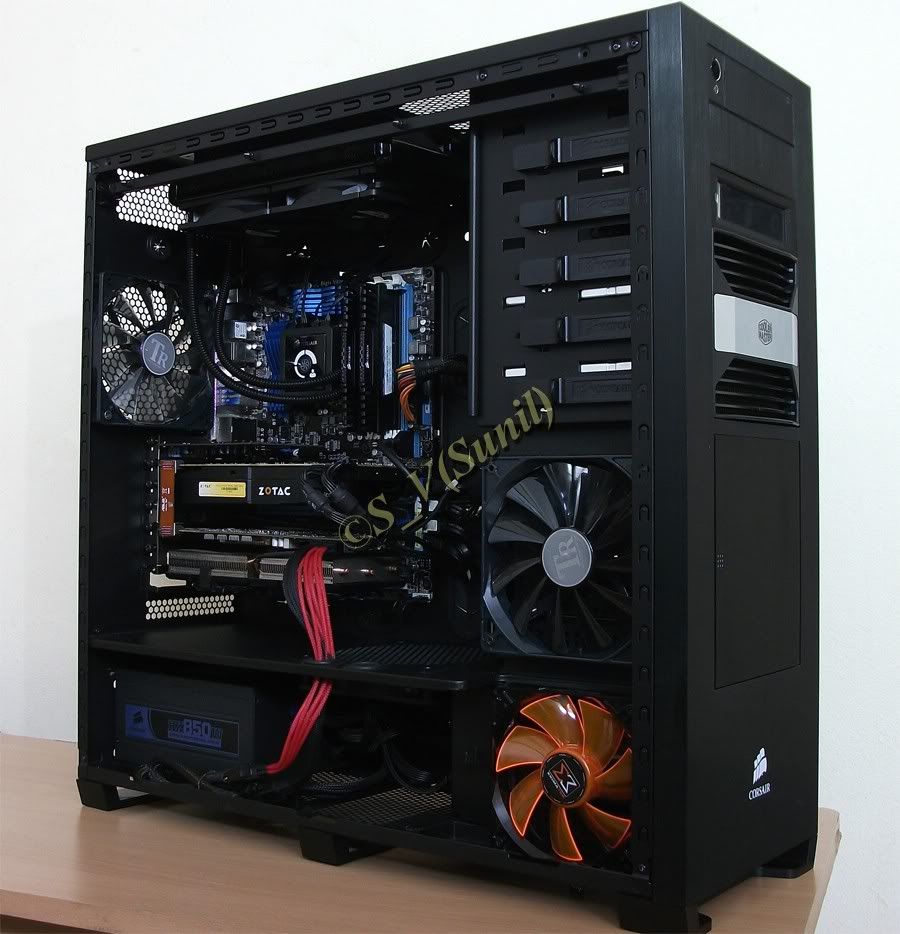 *
Pink color indicates Bought from US
** Prices listed below were ,at the time of purchase...
ITEM
|
MODEL
|
DAMAGES
Processor
|Intel i7 2600k ... | 16,500
CPU Cooler
| Corsair
H100
|6500
Motherboard
.|Asus P8P67 Pro..|13000
Ram
| Corsair Vengeance 16GB 99924 4x4GB | 7500
PSU
| Corsair HX850 | 9,200
Case
| Corsair
Obsidian
800D
| 16,500
Graphic Card 1
| EvGA Nvidia GTX 470 |
11,600
(From US)
Graphic Cooler 1
|Gelid Icy Vision Revision 2|
2400
Graphic Card 2
| Zotac Nvidia GTX 470 | 14,300
Graphic Cooler 2
|
CoolIT Systems Omni AC-N470 A.L.C. VGA Cooler
|
6000
Display 1
|ViewSonic VX2433WM (Computing Tasks)|15,000
Display 2
|Samsung LED 5900VR 40" Inch (MoVees & Gaming)|61,000
Sound Card
|Auzentech X-Fi HomeTheater HD |
12,400
Sound Cable
|Panasonic Optical Cable 1m| 999
Speakers 1
| Onkyo HT-S3400 5.1 BluRay Speakers(HD MoVees)|23,000
Speakers 2
| Creative S750 GigaWorks 7.1(Gaming&Music)| 29,000
SSD
|
Corsair GT 240GB 240GB
|18k (After MIR) or else 22,000
HDD
| 2x Hitachi 2TB 7200 64MB 6GB|10800
|3x 1TB WD cavier Black 6G| 6000(It's a Deal and swapped my Green1TBs)
|2x 1TB Seagate 7200rpm|5400
External HDD
|WD 1TB My Book|4500 (Year 2010)
|WD 2TB USB 3.0|5200
|WD 2TB USB 3.0|7700
|WD 2TB USB 3.0|7450
|Seagate 1TB USB 2.0|3800(Deal)
|1TB WD Cavier Green(Running Techcom Casing)|5500 (year 2009)
|500GB Seagate Powered|8000 (Year 2004/5)
|500GB Seagate AgentGo portable| 2200
|Sedna Docking Station USB 3.0|1350
Mouse
|Roccat Kova|2100
|
Razer Transformers 3 Bumblebee - Razer DeathAdder
|2300
Mouse Pad
|Roccat Sense|999
KeyBoard
| Logitech MK250 Wireless K/M|1100
DVD writer
|Samsung External DVD writer|2100
Operating system
|Windows 7 Pro 64bit VL|8100
UPS
| APC 1.5kv | 9800
UPS Back-UPS
| RS 1500VA |4000
|Total|
I'm lost counting
MODDING and Other Accessories
ITEM

|

Mode/Make

|

Price

|

Location

Fans

|Noctua NF-P12 12cm x2 |2000|Ebay

|Coolermaster R4 Green Led 90CFm x2|900|Ebay

|Xigmatek 120mm XLF-F1253| 450/-|Arun Computers(HYD)

|Thermalright X-Silent 140 x2|1500/-|Primeabgb

Fan Controller

|NZXT Sentry 2 Touchscreen|

1000

|Amazon

Cold Cathodes

|

|Logisys CCFL 12" & 6"

Blue

,

Red

,

White

,

Green

|1500|Ebay

Cables

|NZXT sleeved 24pin,6Pin Black,6Pin Red,8pin CPU extension cable|

1400

|Amazon

Memory Fan

|Corsair CMXAF2 Dominator Triple Channel Airflow|

1200

|Amazon

Thermal Grease

| MASSCOOL G751 Shin-Etsu Thermal

x2

|

620

|Newegg

|Noctua NH T1|

450

|Amazon

|Tuniq TX-2|300| Arun Computers (Hyd)

Thermal Remover

|Arctic Thermal Remover and Purifier 30 ml each|250|Ebay

HDD Bay

|Coolermaster 4-in-3 Device Module|1130(Shipping inc)|Primeabgb

800D Accessory

|Sata 6 Plate for HDD Bay|

450

|Corsair.com

|Front i/o USB 3.0 Upgrade|

1000

|Corsair.com

|Side Window Door Spare|

Free

|

Thanks to Corsair

|Total|
10 Questions and Answers about My Rig and Myself.... If you are Bored you Can skip to Next Content..

* Credits to Famous Site Guru3D( I am taking little credit here but Not Copying ,just using the Concept)
I am working as Senior IT specialist in a well Known Company. My profile involves Systems and Networking Design and Implementation.
1. When Did you started using PC and What's the First system Owned?

In 1998, I started using PC but not Mine it is from Internet Cafe. My first PC owned by me is i5 750 though I used many systems before through Cousins and elder Brother.In that Case I laid my hands first on Pentium PIII....
2.What do you mainly use the system for?
I use mainly for Gaming, MoVees and for VMWARE applications...
3.How often do you update/buy a new rig?
I consider for an update when it is is needed especially for Gaming and Multitasking.
4.Why ATI or NVIDIA, why Intel or AMD?
I'm No Fan Boy for either Brands. I love both of Them. So performance and Spec's does matter and automatically decision will be made.
5. Does your PC live up to your expectations ?
For a Rig Like this If I didn't feel it is living up to my Expectations.. I must be Insane. My PC does perform gaming better if not the BEST of all.. so I am quite happy with things going on.. Even Battlefield 3 is not an Issue for me. With SLI I am getting an avg of 40 Fps (34-90).. Which is quite enough for butter smooth gameplay... Also during my MoVee time, My Led and Speakers are not at all disappointing me.
6.What's the best part of your rig?
I always feel good whenever I see My Giant Cabby. I consider Corsair 800D is the most and beautiful Hardware in my Tech world till now... I think Corsair Built this cabinet with Heart not with Mind. It's pure Divine beauty with cleverly designed and lots of space. For some they may feel it's too Big but not for me.. I just Love it and I am sure this will be my cabinet for so many years...
7. What sucks and should not have been bought?
As of now nothing..
8.Do you have any Future updates planned ?
I think I am done. I am going to stick with this computer for really long time. I have more serious matter in life which I am about to enter. So spending like now is not going to be happen anymore.
9.Is there anything you are desperately seeking to mod your Rig?If there is what's holding you?
Yes.... It's Custom Water Loop and only the fantasy thing left for me. If i have a chance to do so I would go custom water cooling for CPU and Vid cards.
The reason I couldn't go Custom water cooling is due to lack of availability in India.. Going custom Water cooling require lots of things and getting from abroad is not a easy choice if we require anything more than cooling kit... I have really wild Dream to MOD my Cabby if custom water Loop is possible. I guess I have to wait little Longer.
10. What's the point of Creating this Thread?
The main point of creating this thread to share my views and dedicate this thread to tech Lovers in my country.
I am happy, now-a-days young generation is showing interest and having immense knowledge in Hardware.
*
Thank you
===================================================================================================================================================
Hardware Reviews and Previews:
** Reserved for small Reviews ... More Coming Soon
Corsair H100 Hydro Series
Rating: 8/10
Previously I gave 7.5 and after testing I must say I should give 8 for this Masterpiece... Remember in my View any product above 6.5 is considered to be a Very Good Product..
Corsair became quite famous in cooling solutions with Hydro Series. These are zero maintenance cooling kit unlike Custom Water cooling where you need to take some extra Care regardless the advantages. I used H70 from Hydro Series for more than a year and I am must say the products are pretty solid and never had any issues. The performance from H70 is outstanding and never disappointed me in going for heavy overclock. Lets see the gallery of H100 which Contains unboxing, Preparing and Installation in PC...
Please VISIT here for Rest of the Process...
Corsair H100
========================================================================================================================================================================
[Onkyo HT-S3400 Home Theater Systems] :

Overall Rating : 6.5/10
Rating 8.5/10 (Compared to Same League HTS)

The Basic or Beginner Home Theater System from Onkyo which was recently launched. I am not a beginner for Home Theater Systems nor a first timer to mega sound systems. In my life I've used some good and reputable brands for movie and gaming purpose.
I am already using Creative Gigaworks S750 7.1 which is costlier as well as better than Onkyo but this doesn't mean Onkyo is bad.... Onkyo is awesome product..
Preview: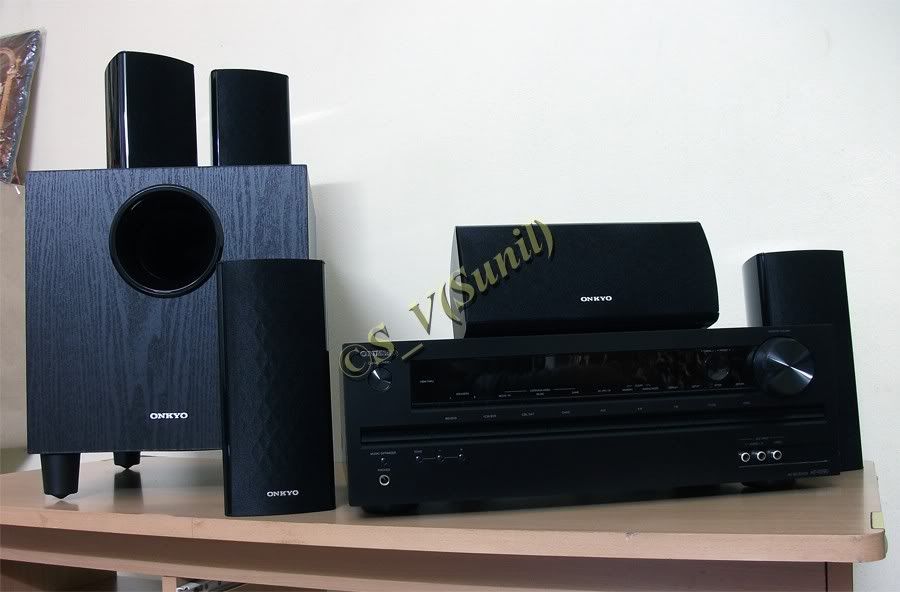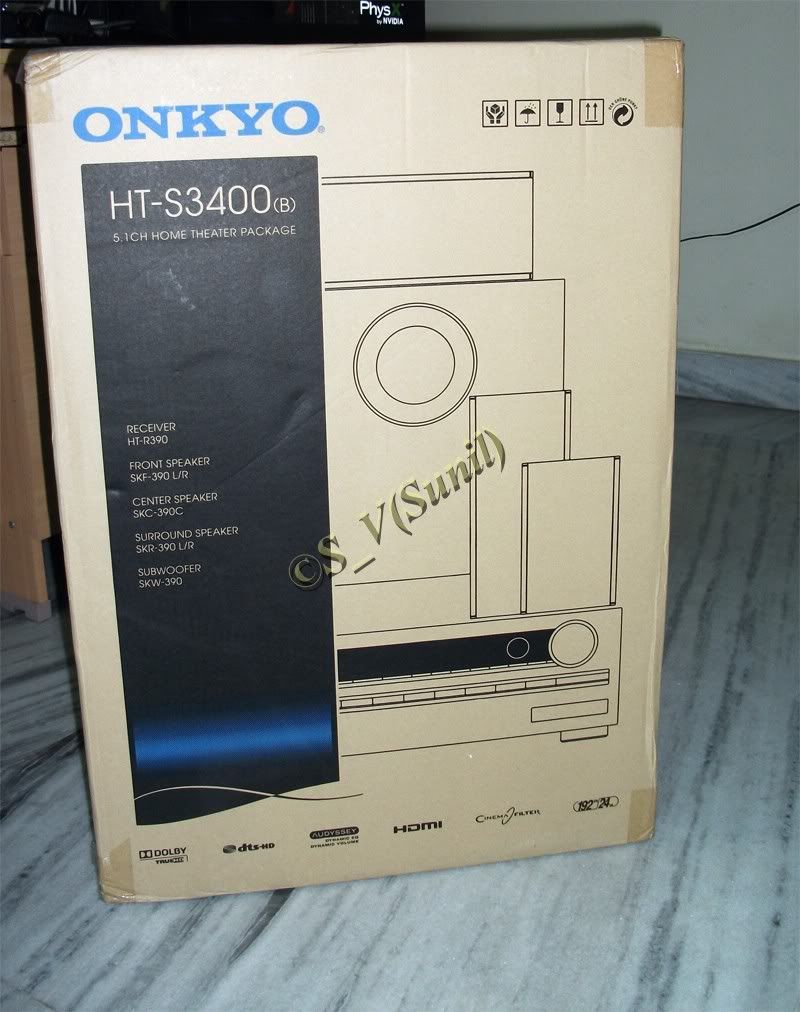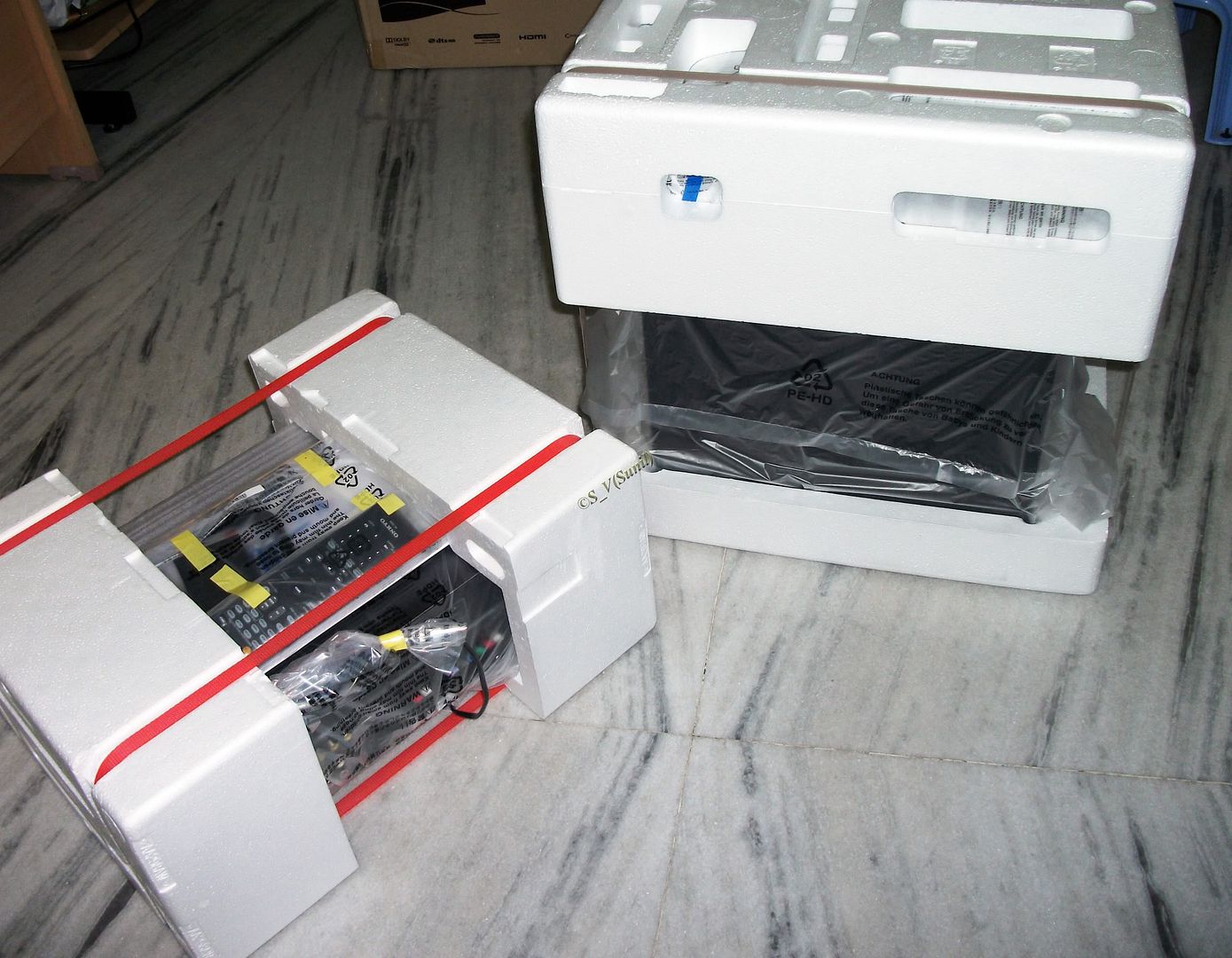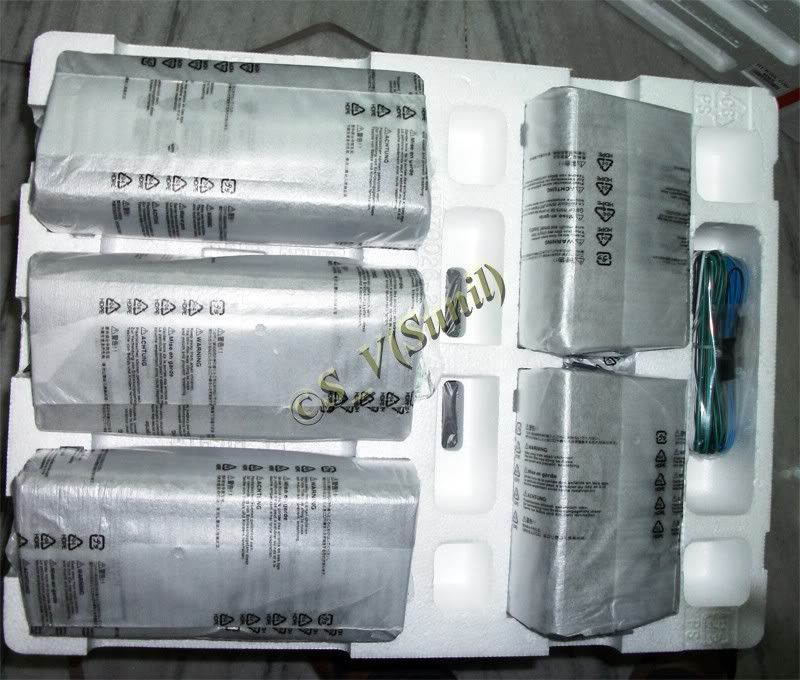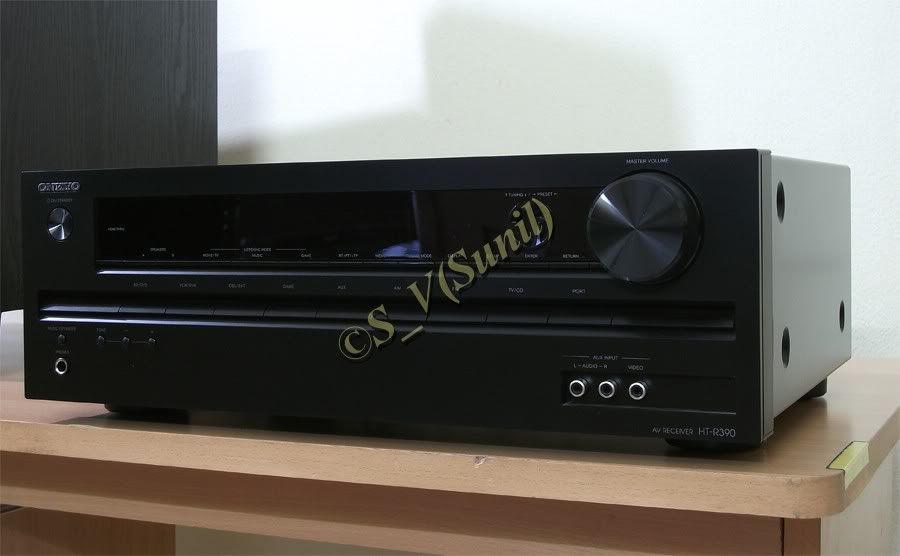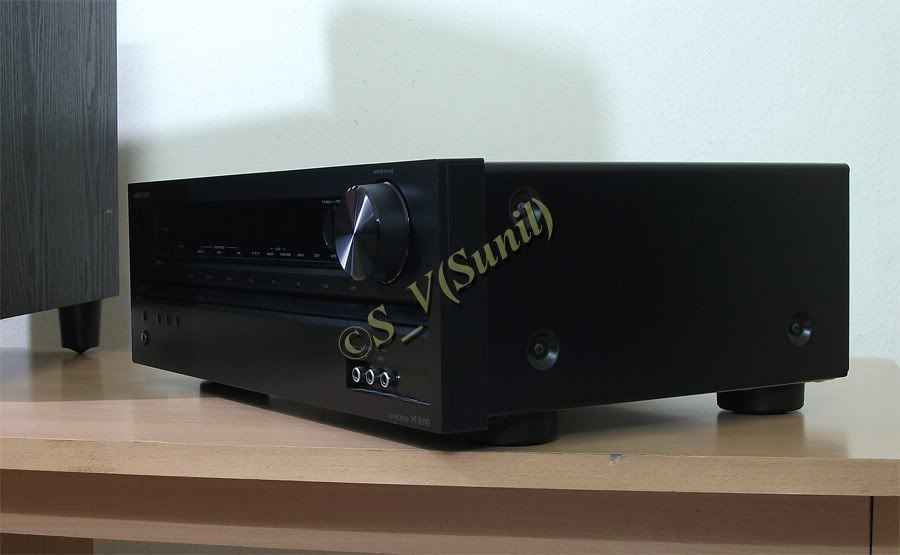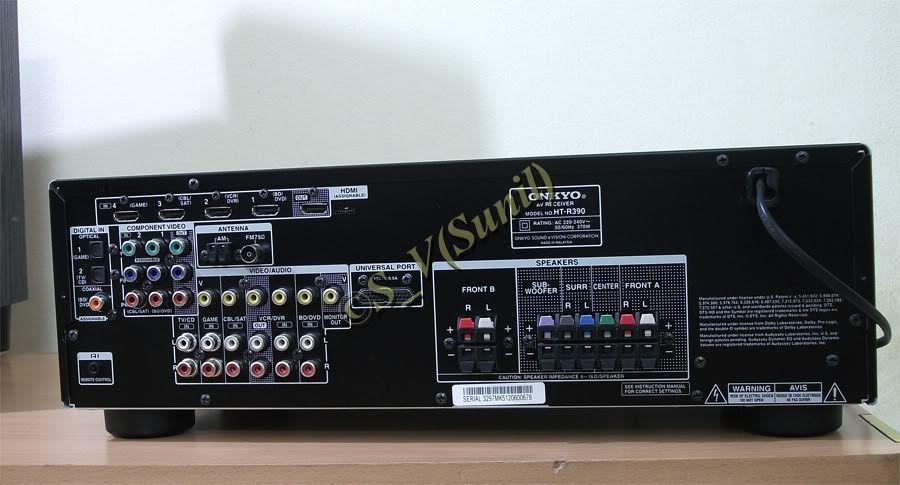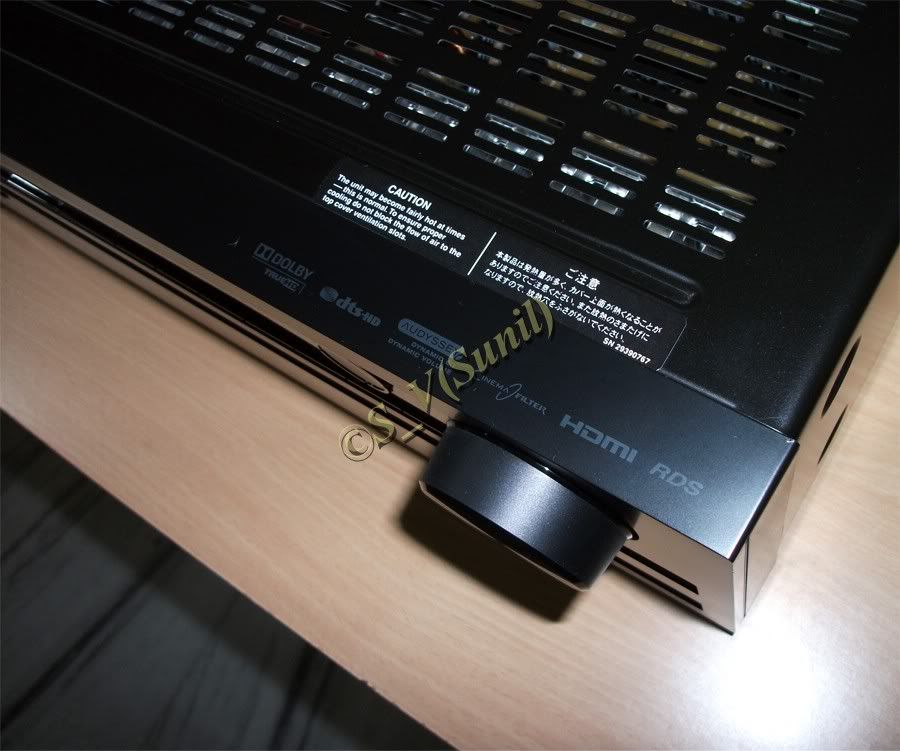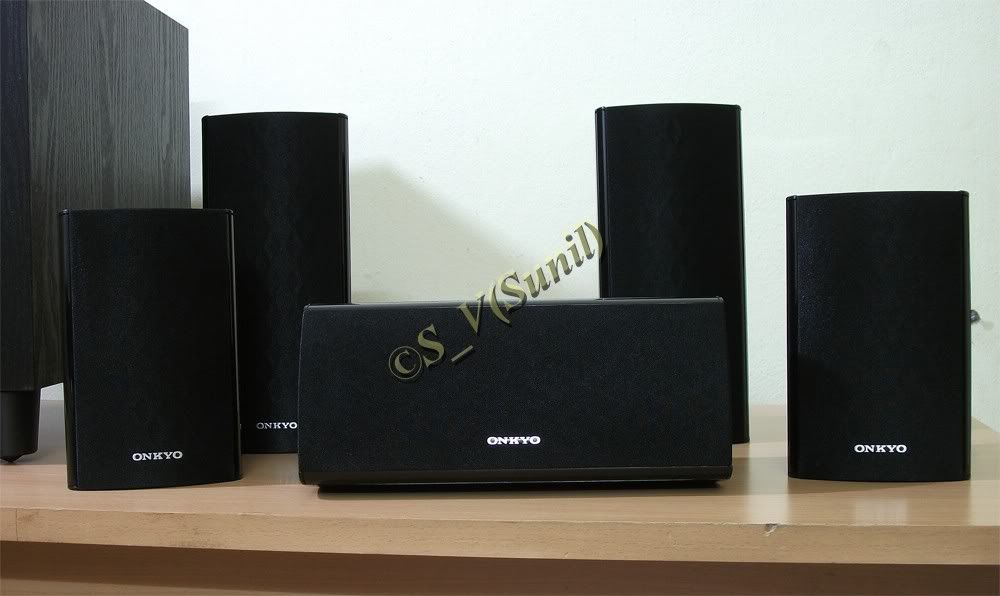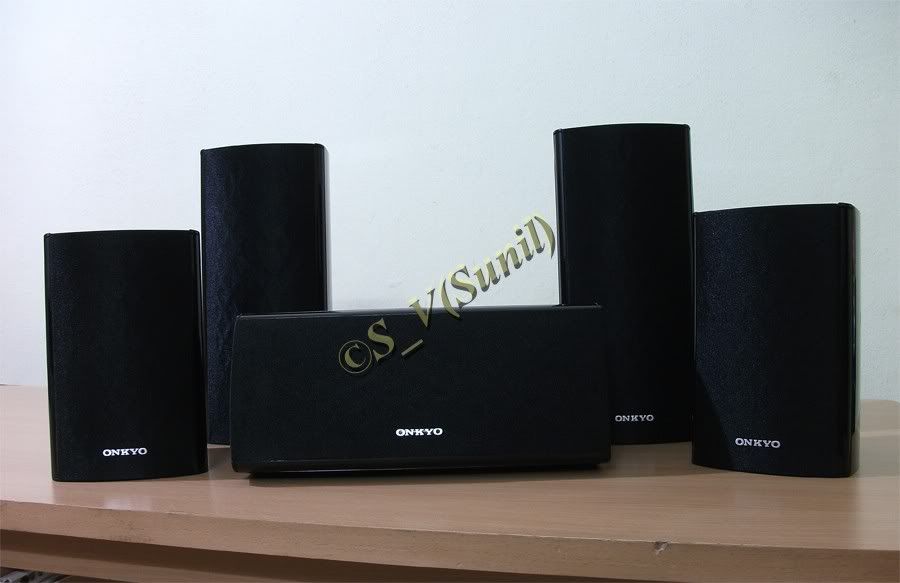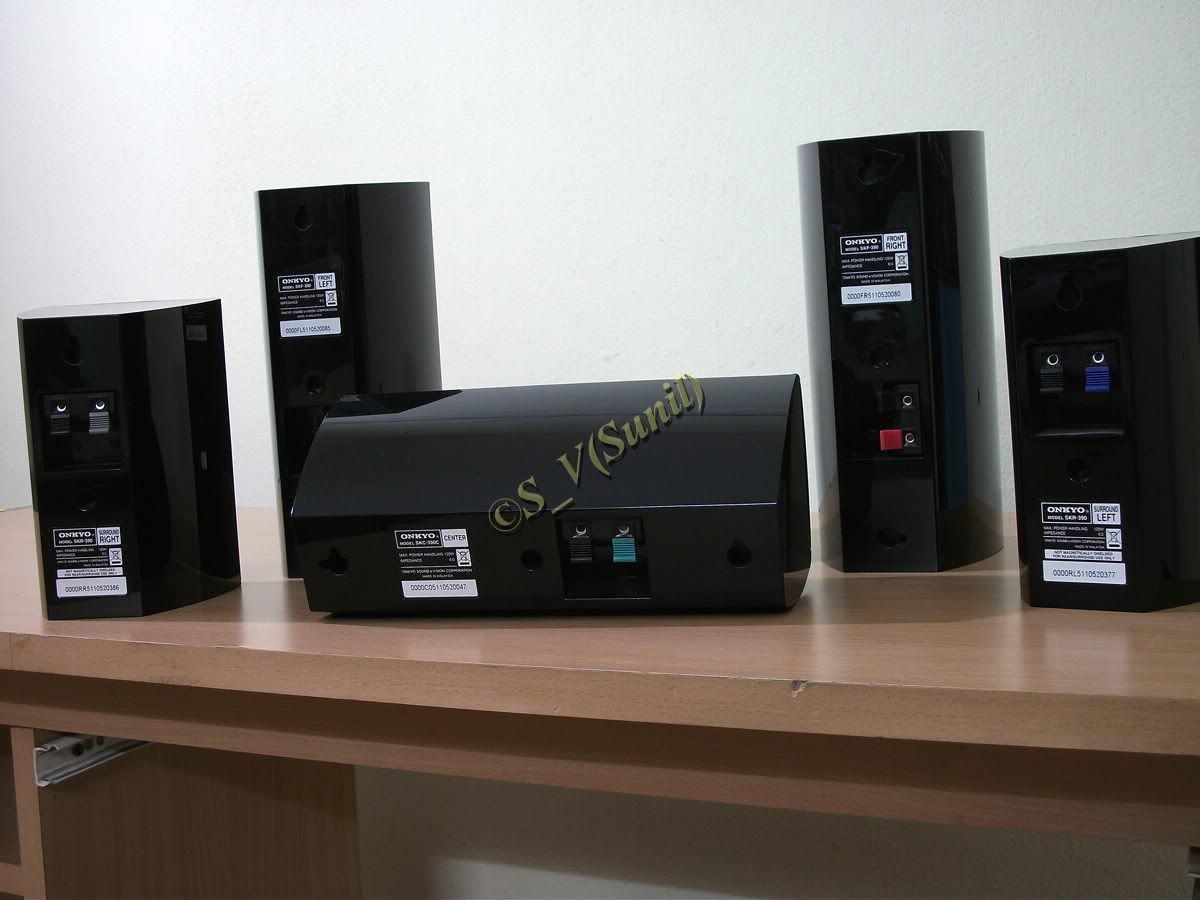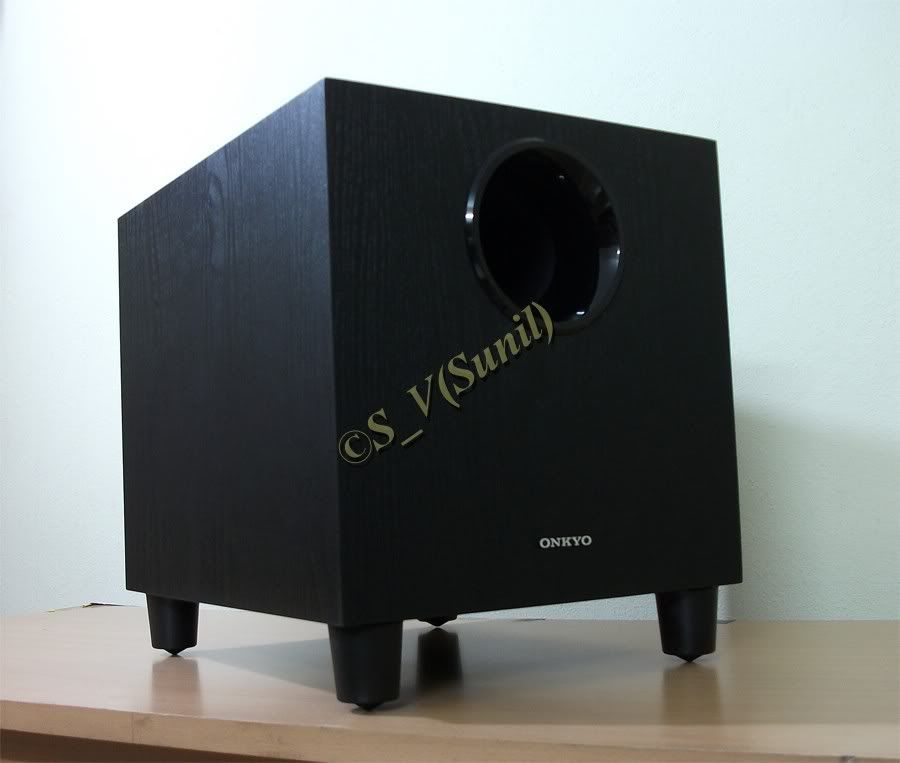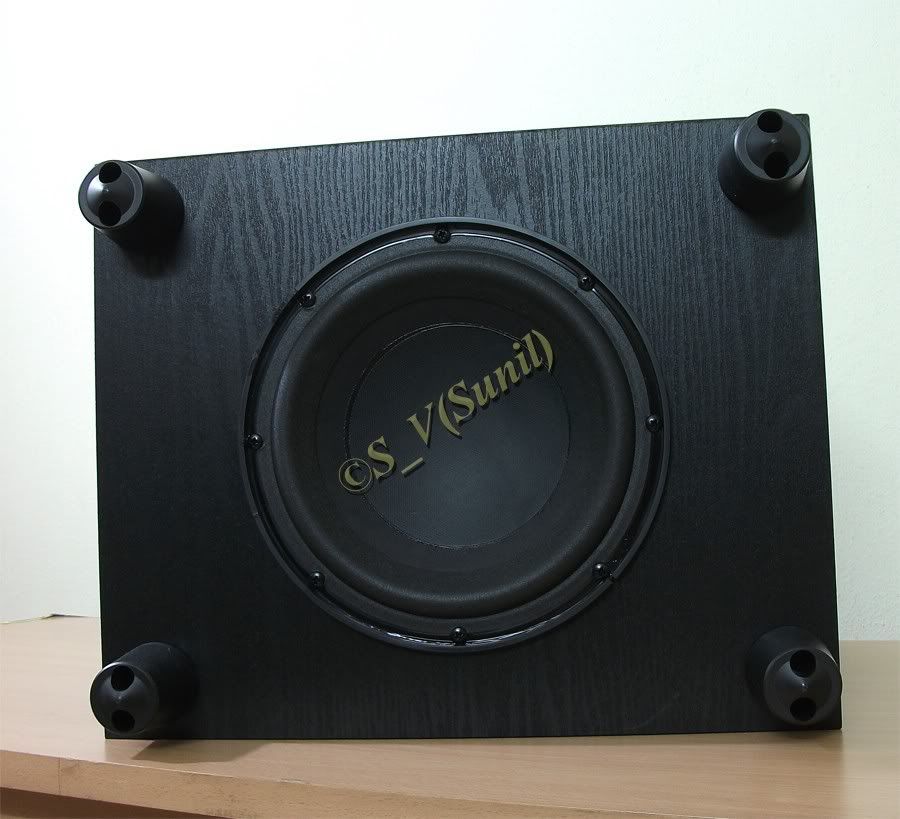 Categories:
Build Quality:
Plastic and wood are used in this Home Theater system. Plastic is used on upper surfaces of satellite speakers. The build is strong and solid. They are little heavier than they seem, especially the front Speakers and Centre. Rear speakers are a little lightt but overall solid. Strong speakers.. Some may not like the glossy feeling but actually I liked it.
The woofer is very light especially compared with Gigaworks I own. It's a passive woofer which is powered by an external amplifier/receiver. The Subwoofer is 20 cm cone and very very powerful. I didn't expect this woofer to dominate my Gigaworks woofer. The build quality is awesome and cool. The only thing I didn't like about this woofer is it dances during every BASS. Yes, you heard me right. Because of its light weight it moves around sometimes it might reach you if you don't notice it's movement
. Anyways this problem is solved by placing good matt underneath. So this time it stuck firm and sound better too. If it's moving you may hear rumbling especially with low frequency and spoils your experience.
The receiver is very good and fast. It does an excellent job and provides lots of options to optimize your Audio Experience in which way you may want to hear. I am pretty pleased with the options and the interface. It lit's all DIGITAL logos it supports while playback and visually it's pleasant to eyes. It does gets very Hot and it's normal, says the Sticker on it...
The provided Cables for speakers look to weak to me. Anyways I am using 16awg MX HI FI sound cables for all Speakers
Sound Quality
:
"
It's very Good .. (That's all I can Say if you want me to say in one sentence)
."
The movie experience is different compared to Creative Gigaworks. The satellite speakers sound very High and Loud but not distorted. Out of the box this model doesn't sound excellent but with little adjustments and patience this Onkyo will sound brutal and awesome. I am using this system for more than 1 month and I must say I am pleased. Always looking for time to enjoy movies on this HTS...
If you are looking for good sound system for only music then this product is NOT the one for you. With some adjustments like "Audyssey Dynamic Volume" the music will very pleasant but it never comes near to my Gigaworks. Still guys the music is very good it just it lacks good treble while playing MP3. But this is not the case with movies. The treble in movies is good.
I am using Optical cable through my X-FI Titanium and the Setup is very easy and the Receiver did detect my PC well and never had any issues. I used my Video Card GTX 470 but unfortunately GTX 470 supports only LPCM 7.1 but not DTSHD MA or TrueDolby though they are same Lossless format and it sounded completely different and this Onkyo sounded absolutely awesome. Unfortunately my Vid card is running in Full load all the time, so I am back to optical cable.
Sound quality was very good especially in action, romantic comedy and classic movies but was disappointing in movies like STEP UP series. Blastings and gun shots were freaking awesome in war movies. The bass is deep and never distorted. Even in low volume, the bass sounded very good and you could hear all frequencies very well. In IRON MAN (Part 1), the chase between IRON MAN and F22 Raptors played really well especially the REAR speakers responded to F22 Raptors Gunshots is totally Impressive. The Hulk sounded Gruesomeness. The list goes on and like I told you Guys this HTS will not disappoint you in action movies.
Recently I watched
Chalet Girl
.. My niece nagged me to play this movie and so I had to watch this Girle Movie forcibly which later came to know it's not that Kid Movie. But honestly the background score is awesome and I continued to see this movie for music. The speakers performed very good with Background score and that's the reason I mentioned about this movie.. Overall the Story of the movie is ***** though....
Baraka 1992 Full HD
is one of the best documentaries if you want to check out your HTS performance. Onkyo HT-S3400 managed very well in this right from the beginning.
******
This HTS is for only BluRay Movies or HD Rip Content with DTS 1.5mbps or Dolby 648Kbps BUT NOT FOR DVD Playback. This HTS is not for ordinary DVD Playback and If anyone is looking at this HTS for DVD Playback only, please SKIP this product.
Gaming
:
To be honest, I am not impressed with Gaming. Maybe that's because of Gaming King GIGAWORKS I have been using it for long time. I mean Creative 7.1 sounded better than Onkyo.
My cousins and friends who got their XBOX and played with this HTS set were amazed with sound clarity. So, one owning a high-end product like this for the first time will not get disappointed. But people already into HTS or THX sets will not like this.
Pros:
1. Killer price for a Blu-Ray Home Theatre
2. Excellent audio performance
3. Compact in size and fits easily in your furniture.
4. 3D Support and 1.4a HDMI Support plus other lots of Input.
5. 4 HDMI Inputs and 1 output
6. Supports all HD audio formats
7. Powerful front and centre Speakers.
8. Cross over adjustments (Which are really helpful to control low frequencies between your woofer and front Speakers)
9. 100% remote controlled.
10. Superb high volume with no distortion
11. Considering the price you really can't expect more than this performance which is pretty awesome.
Kudos to Onkyo.
.
Cons:
1. Passive Subwoofer (If you want to upgrade only woofer then you need to replace your receiver too)
2. Remote button placement is odd. Takes a little time to adjust.
3. High frequencies sound a little weak.
4. No built-in dock for your gadgets. (You need to buy it separate)
5. Woofer rumbles odd sound if not placed on a grip surface.
6. Bass sounds too much in certain tunes. Sometimes I keep them in -db to lower the Punch.
7. You may need to tune the settings with different movies to meet your playback needs.
8. Lacks crystal clear treble. So if anyone is not at all into bass.
Avoid this Product
(Still I feel it's good as it is balanced between Treble and Bass but My cousin who prefers Treble than Bass has been completely disappointed)
For now These are the issues i see with them..
(If anyone wants to know anything , I am glad to answer them).
**
Remember these Settings suited my Room size pretty well and I placed Woofer Back on Right side Corner. After Testing on all Corners I think this HTS sounded very good if it is placed on Back side Corner. Depend on the Room Size and Placement, you should try to find sweet spot for your Woofer patiently and also HTS will perform different(Good) if it is placed and configured well.

===========================================================================================================================================================================
[Gelid Icy Vision Revision 2]
Click here to show the assembling procedure....
Rating: 8.5/10
This Revision supports most new Cards till date....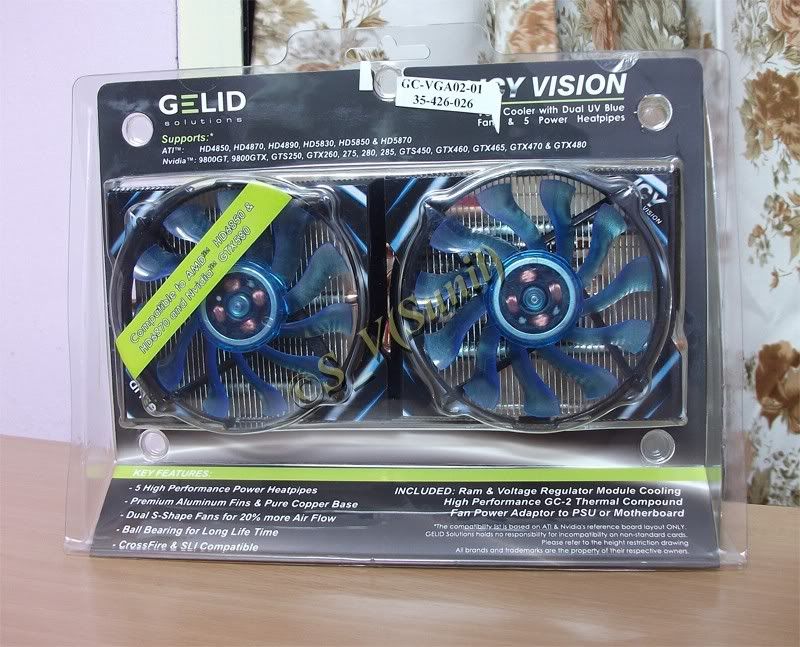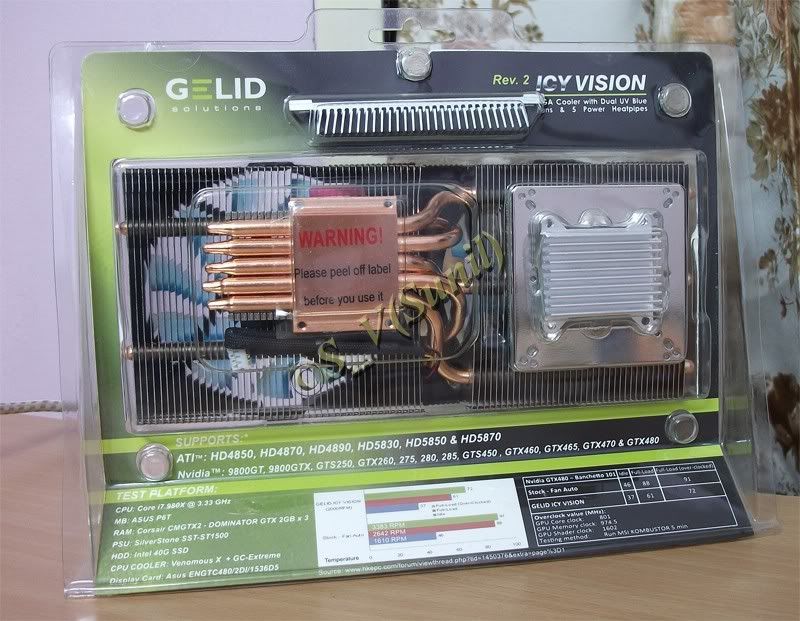 Lots of VRM Heatsinks and other necessarY accessories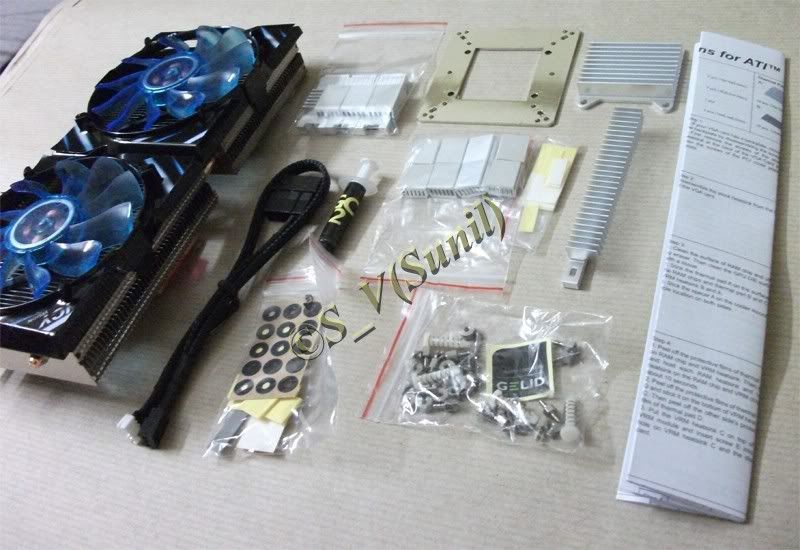 That GC2 Thermal is awesome Paste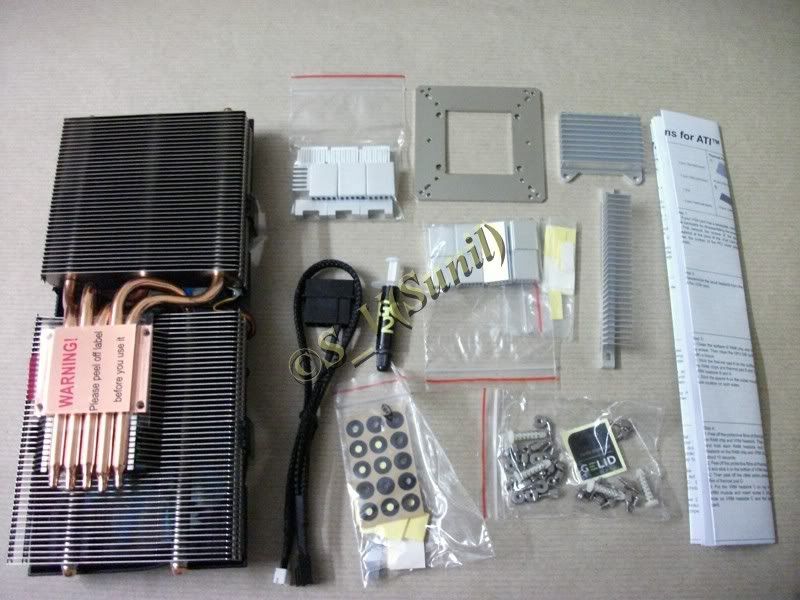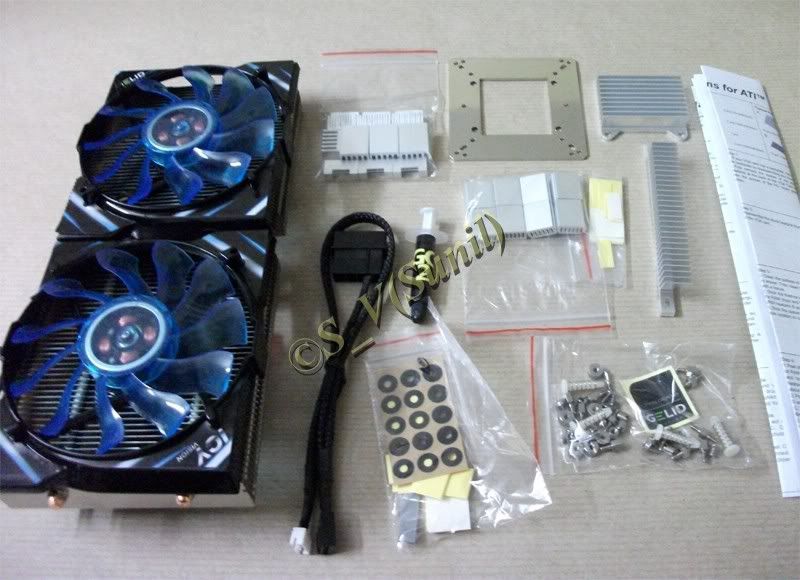 First I am gonna strip EVGA GTX 470...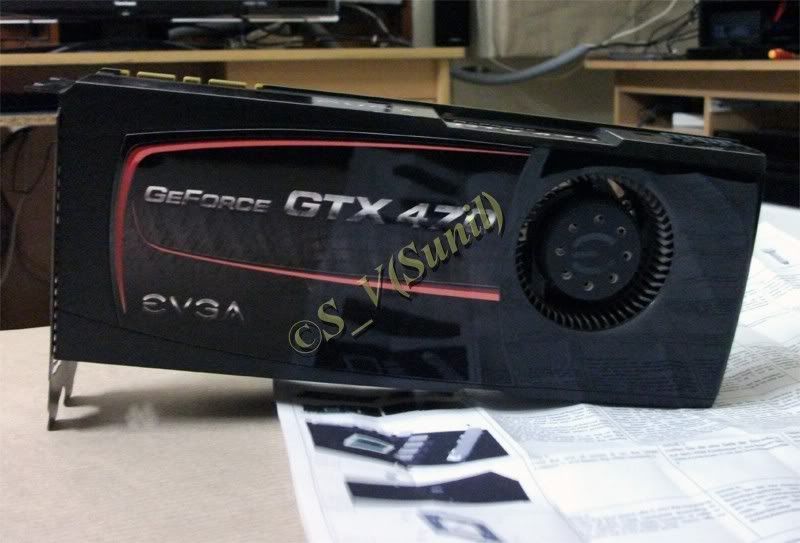 See there 13/14 Screws are there to remove them..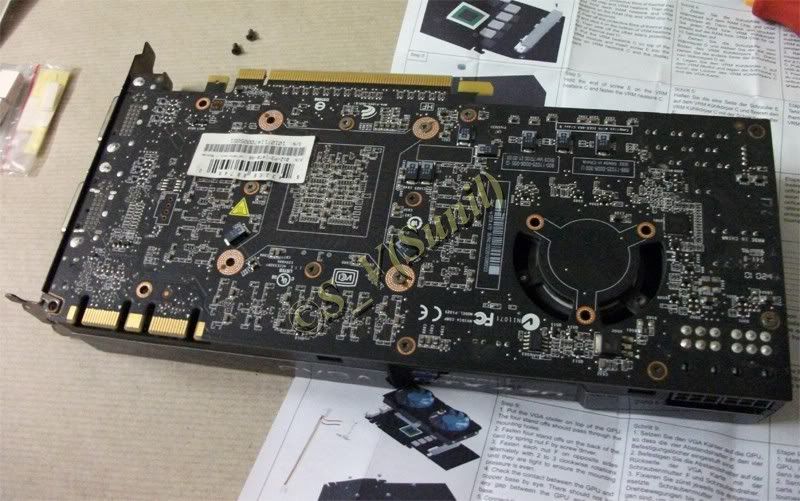 Very carefully Removed since these are sensitive to loose grip if not taken carefully,,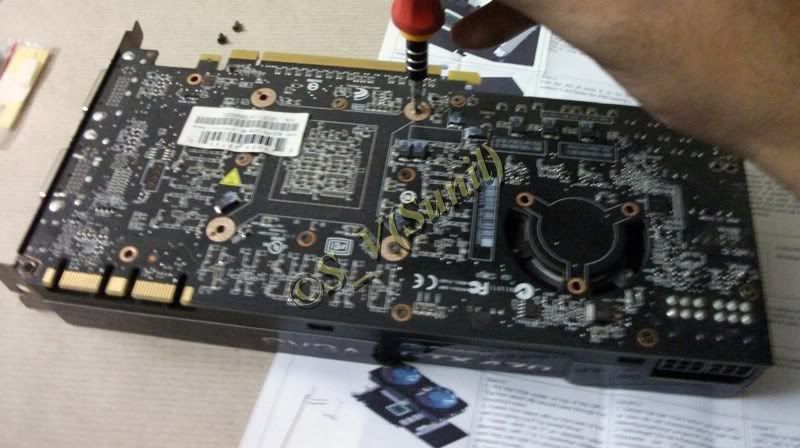 With Slight Twist towards 90 Degree.. and little force will make sure VRM's don't get damaged..
I hope you can see How much DUST occupied with Thermal Pads...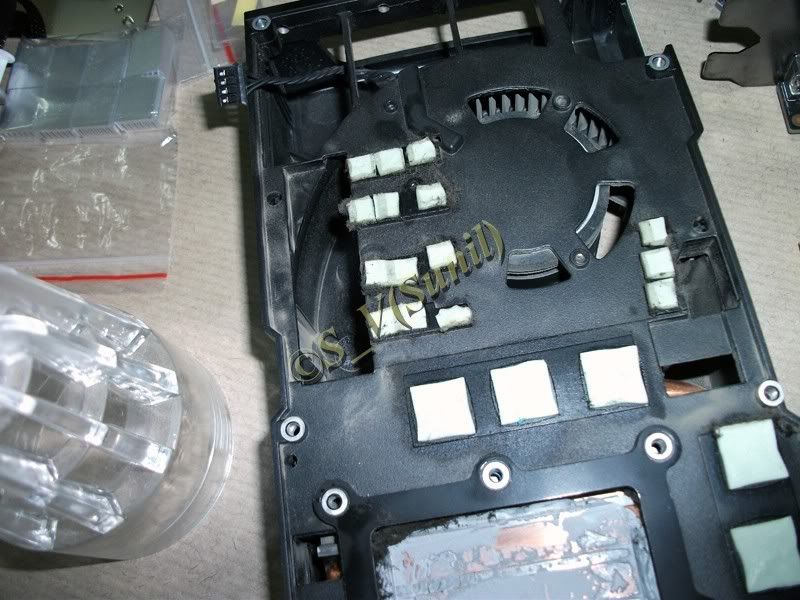 These Two little Brothers will do their Job Awesome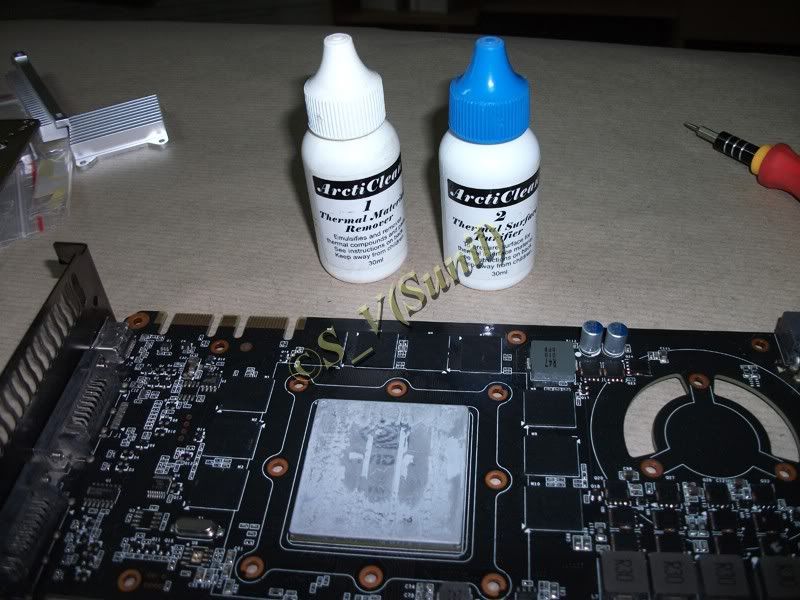 see.. I Told you.. Shiny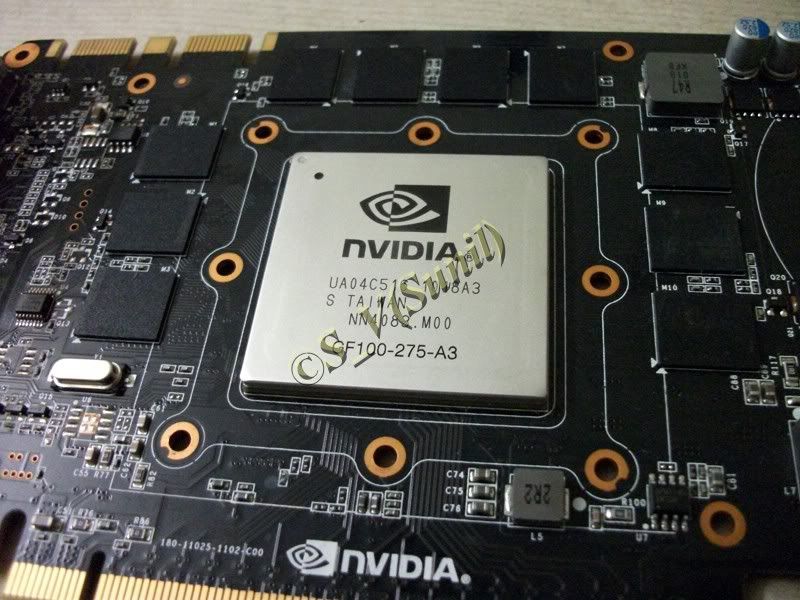 Now...double side Thermal Adhesive pads tagged with heat sinks will make sure it sticks to RAMS.....
We need to place those straps on Four Corners ..where HEATsink will fit..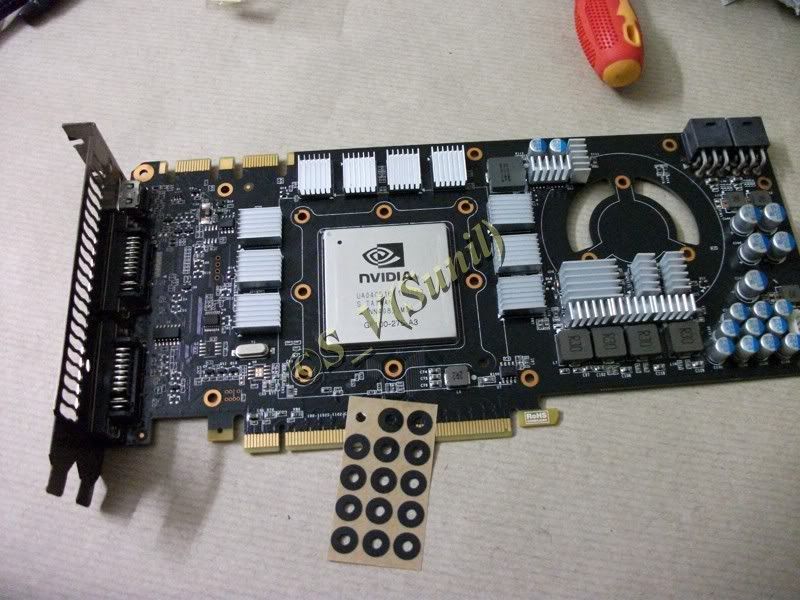 GC2 Applied.. This thermal Grease is really pain in ass to apply....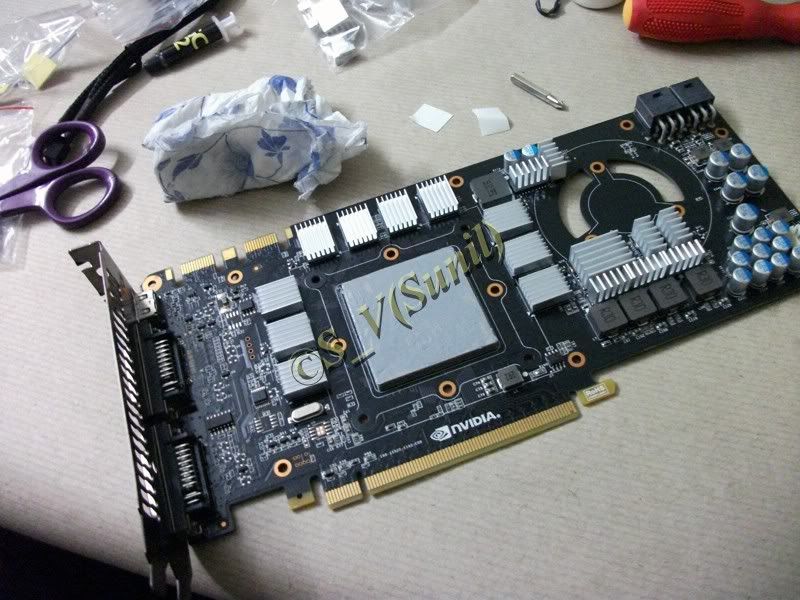 Once done ...Place the card on Heatsink and Screw with Four Screws..
Finally.... Done..My Vid looks so shiny and feels like Brand New....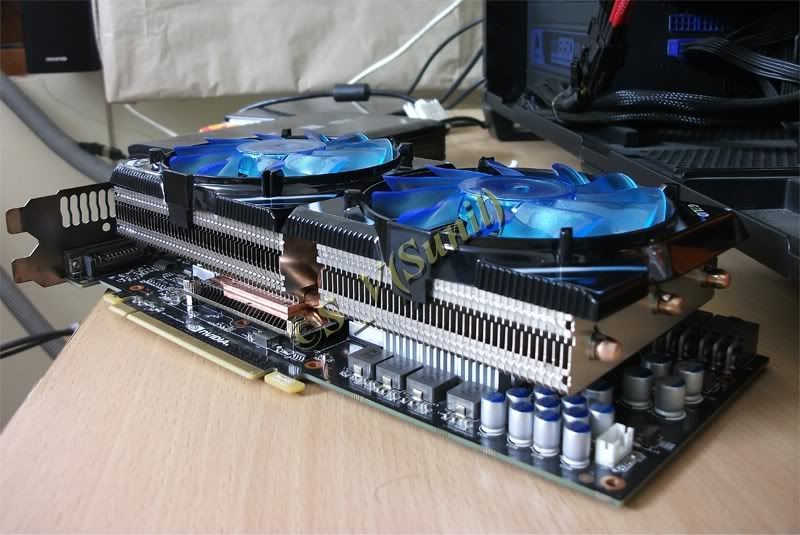 Finally Into system....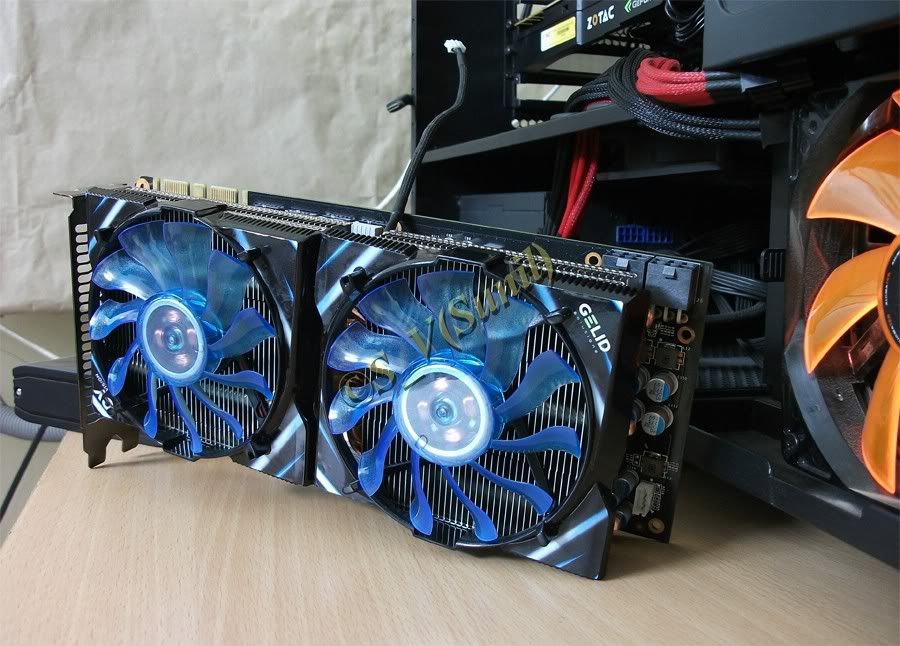 Benchmarks:
** Will post Better quality screen shots later,so for Now reference...
KomBustor ... When Running only Single Card...

In Gaming...
Look at the Idle Temps when game is about to start
GPU1 Running STOCK Fan and Heatsink
GPU2 Running Gelid ICY Vision This is after 10 mins gaming..
GPU1 Running STOCK Fan and Heatsink
GPU2 Running Gelid ICY Vision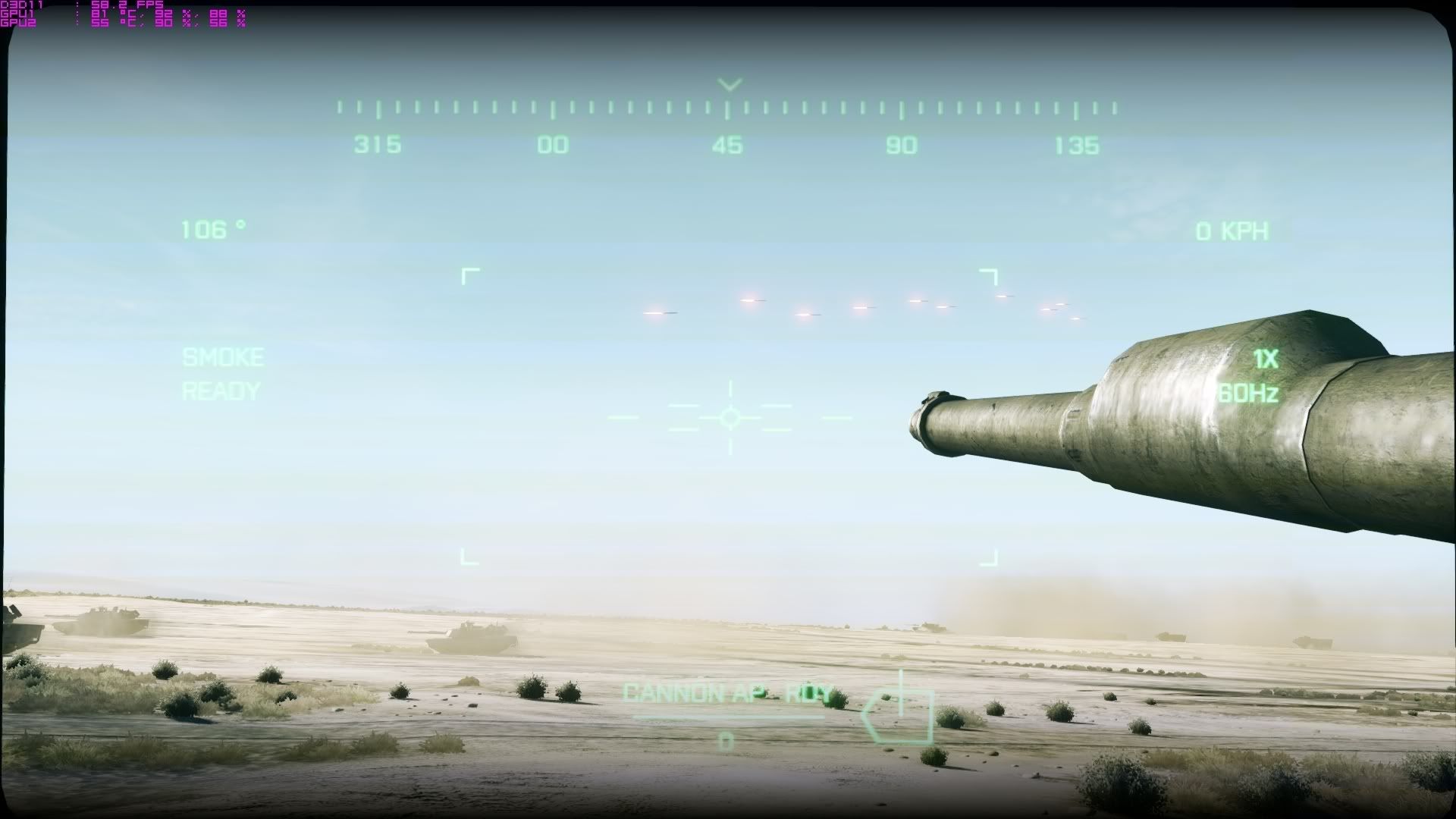 Conclusion:
I am Totally satisfied with the Results. It's performing beyond my Expectations and most Importantly it's very slient.
Pros:
1. Excellent Performance, 25c-35c lower Temps Compare to Stock Fans and Heatsink.
2. Good Price
3. Multiple and Latest Nvidia and AMD Videos cards Support. In this case much better than ZALMAN VF3000F which is dedicated to only one card..
4. Easy Process
5. Thermal Grease GC 2 is Top Notch Performer
6. Extra Heatsinks and Thermal Adhesive pads for VRM's if in case needed.
7. Runs Super Slient even at 100% Fan speed and Very Good Fans.. UV reactive too
8. Extension cable provided for Fans to connect and control through Fan Controller...
Cons
:
1. Heat sink Occupies Three Slots.
2. Not Recommended for SLI or CrossFire sandwich
(
But even If 1 inch space left between SLI or CrossFire will perform very Good.. If not TOP card gets Hot But still runs slient...
)
3. Should have given better Thermal Adhesive Pads..
4.
Worst Guide.. (I took risk and installed Heatsinks for VRM's referring Stock Thermal Pads... If anyone gets confused where should you stick VRM heatsinks ,just look at your Stock Thermal pads location and stick small Heatsinks on those areas.)
5. Little time taking Process. For me the process took 40mins. (But I loved it
)
Overall: Get it man..
========================================================================================================================================================
[Coolermaster 4-in-3 Device Module]
I am done using all 8 SATA STORAGE ports but My Cabby can do only 6 HDDs. So after good search I found this Little Device and it's top notch quality Product for 1100 Rupees... The finishing and quality is excellent. It does keep HDD's very cool. so here it is, Click the Spoiler tag...
Rating: 8.5/10
Main Box...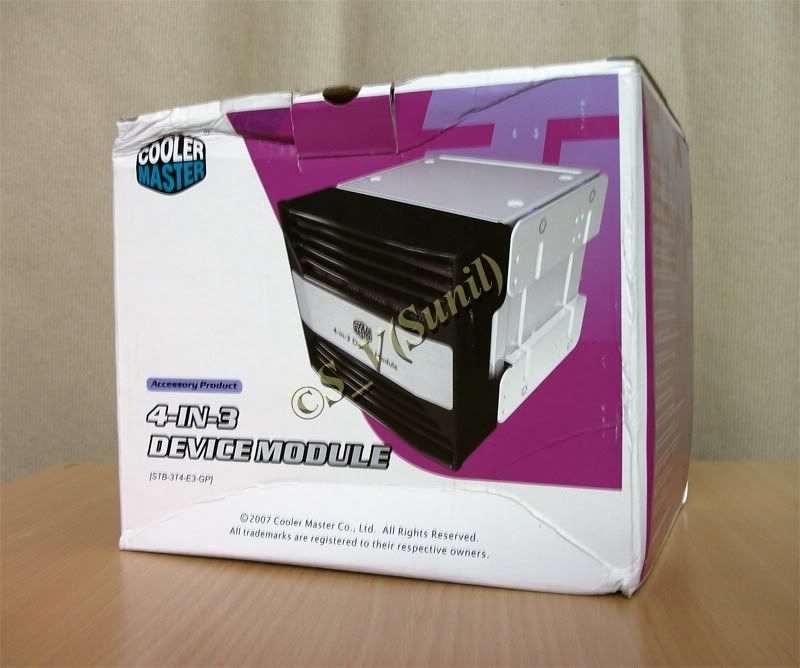 As usual Thermo is doing it's Job.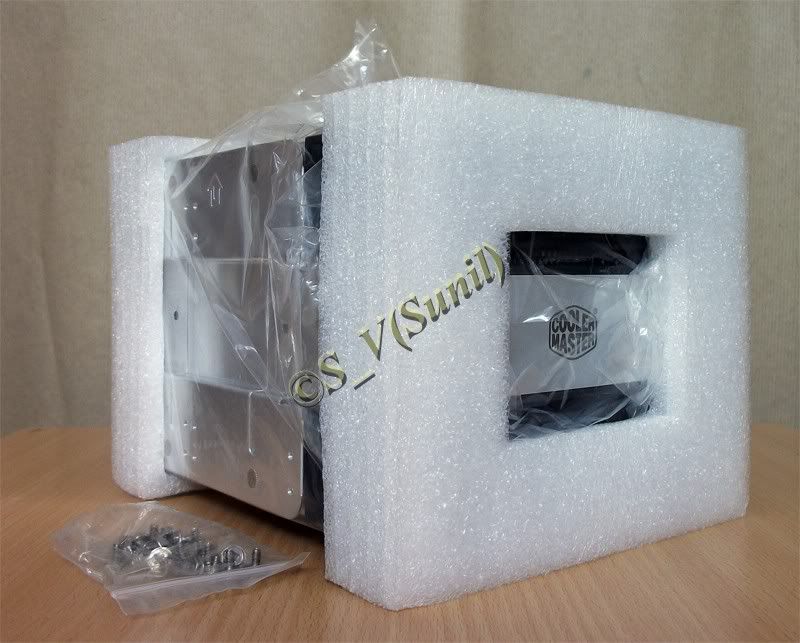 here it is...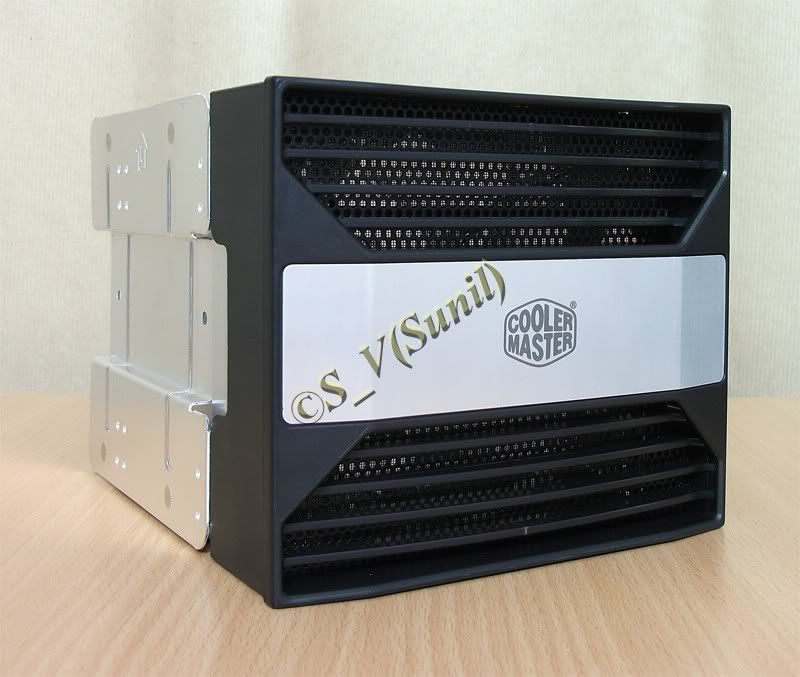 Rear View...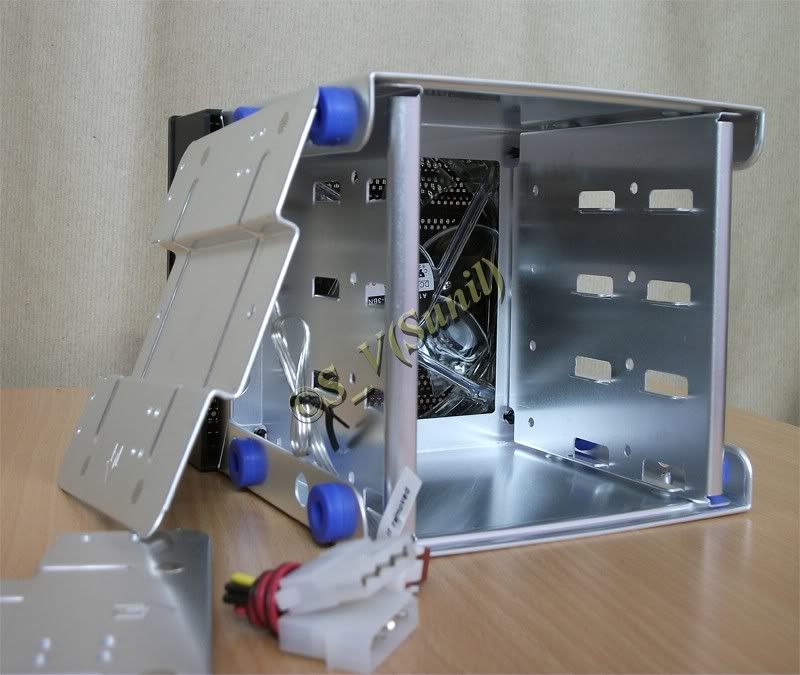 Those Blue Rubber things is to reduce Vibrations which comes from HDD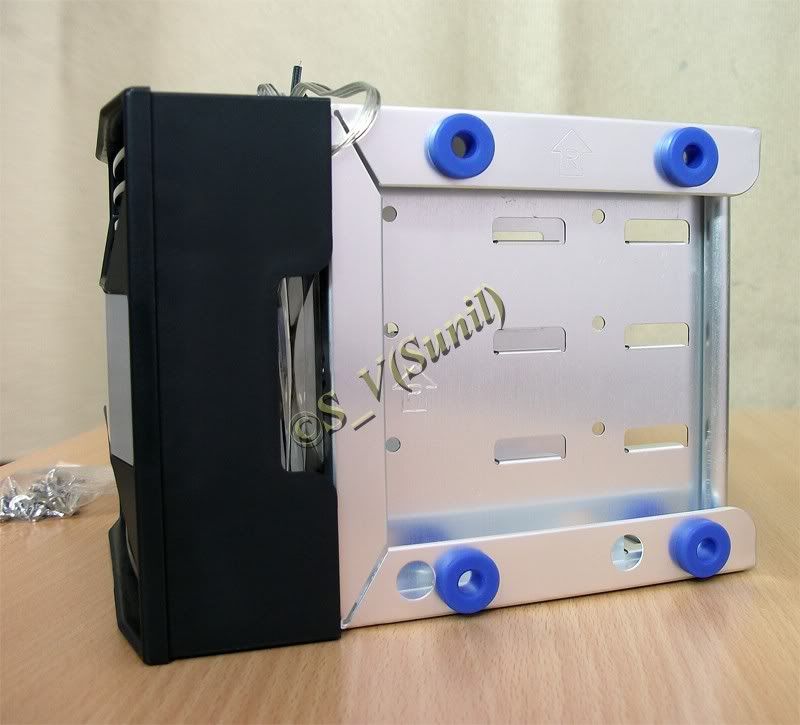 I wanted to see everything so I removed Everything outside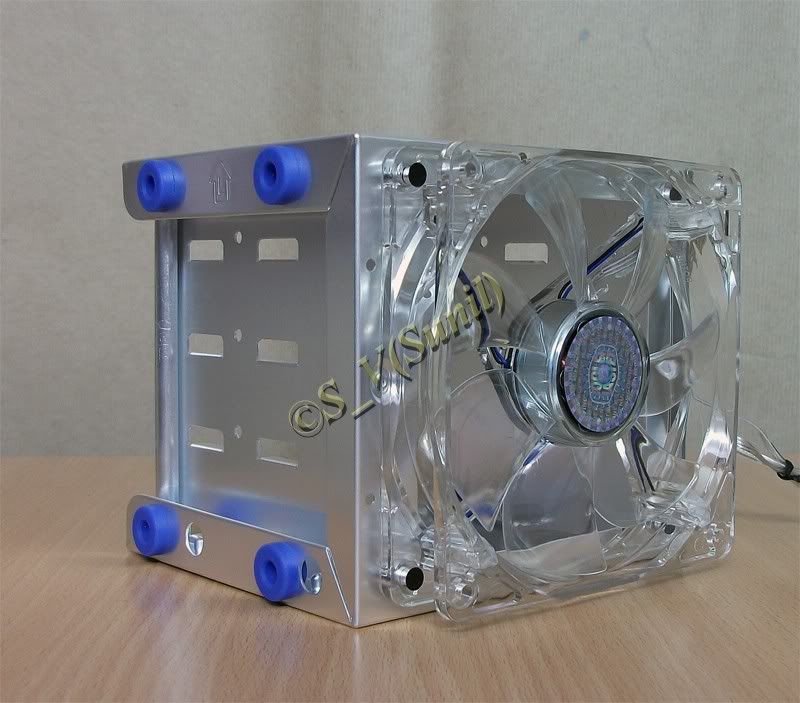 Nice Fan with Blue LED.. Very Silent and enough to keep to HDDs Cool. This fan can replaced with any other 120mm Fan...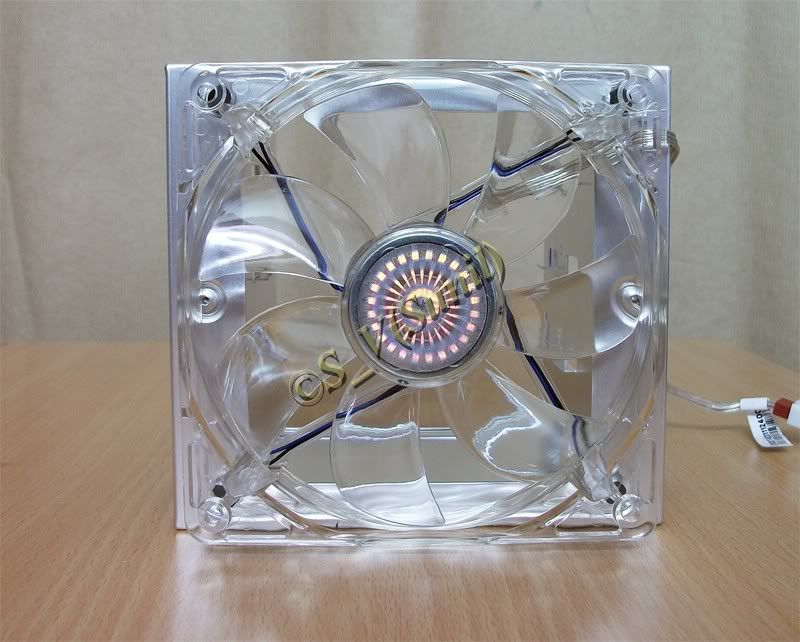 The front part can be cleaned.. As you see Coolermaster allowed us to clean the filter as well mesh... Good Idea and Thanks for DUST filter.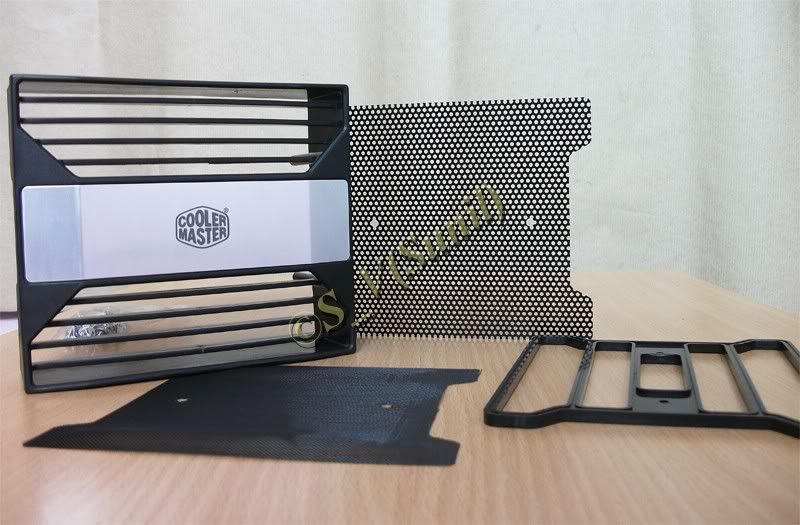 For Now... These two Babies are going inside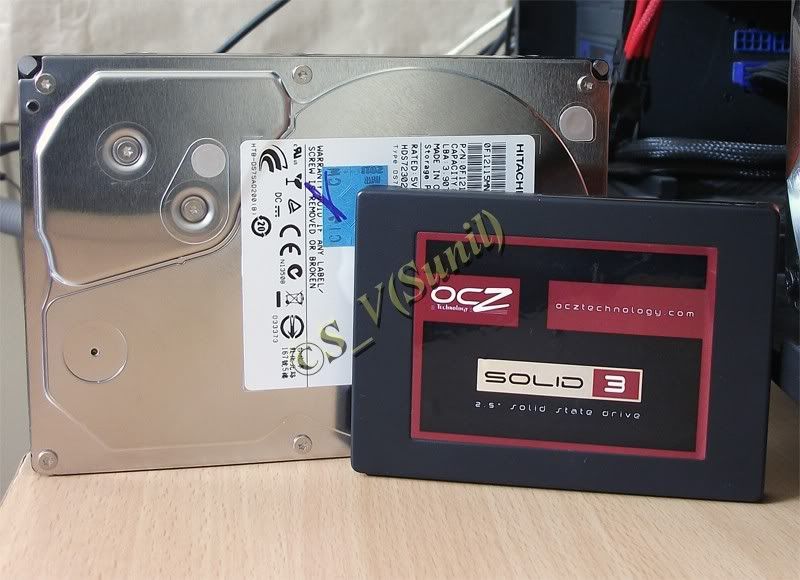 Done screwing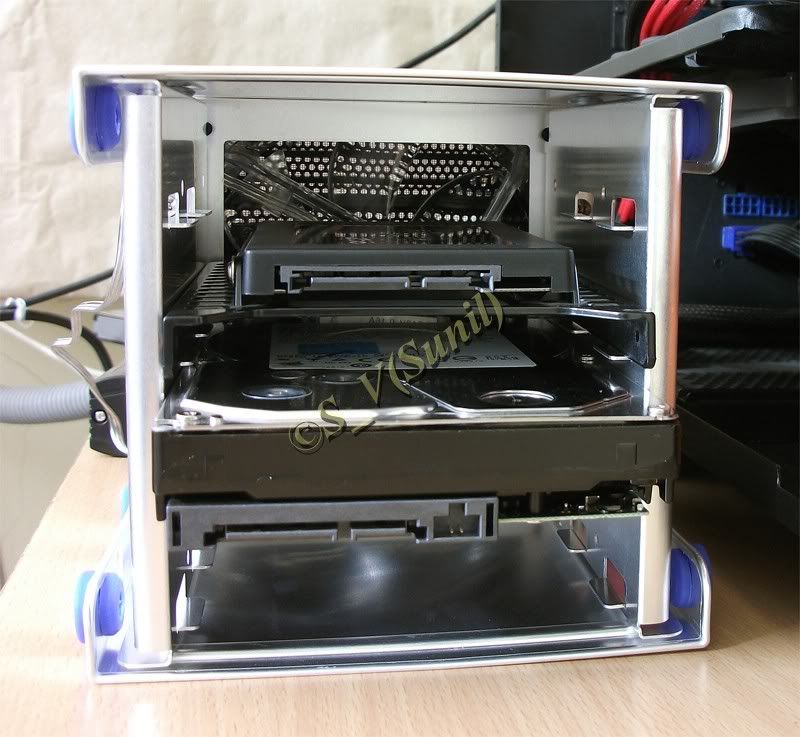 Fits perfect without any Brutal Force or any hassle .....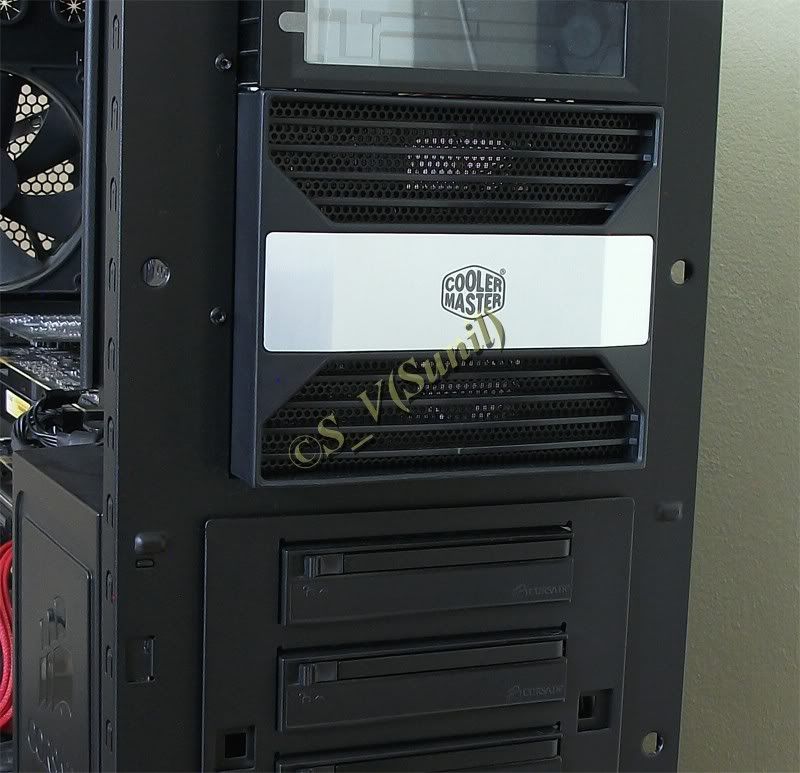 See Now i can place Total of 10 HDDs from Top to Bottom... Center Bay is Hot SWAP from Corsair.....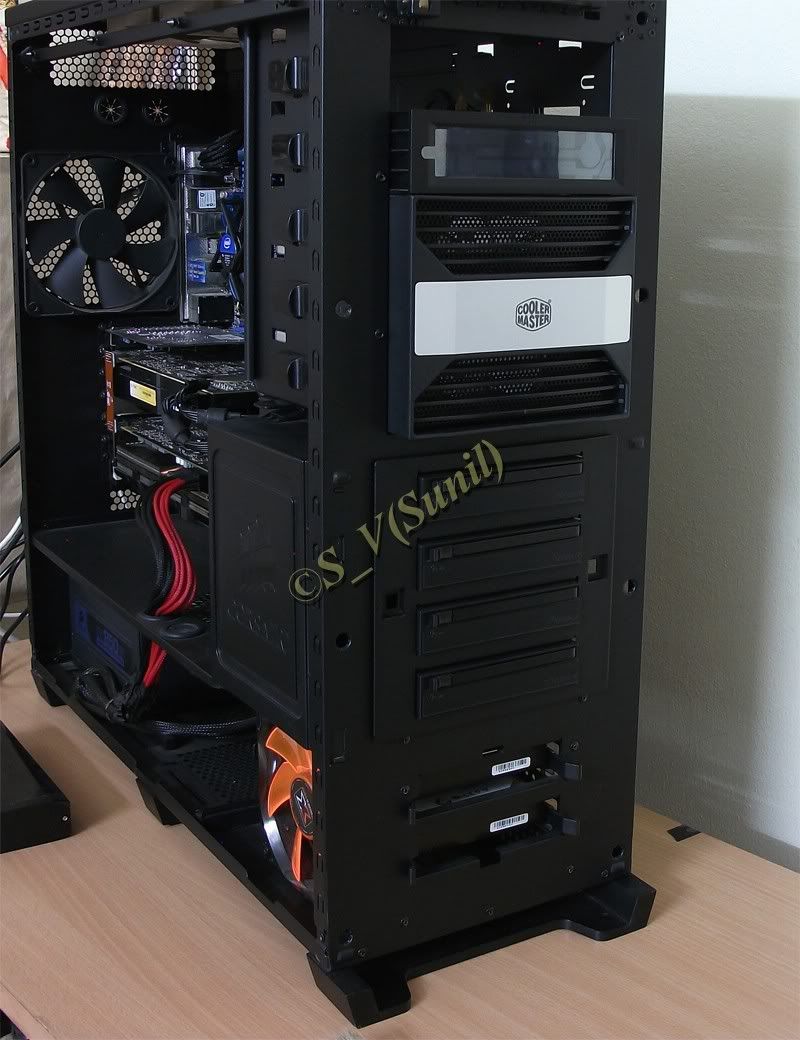 Done simple Test before put back Front Cover of 800D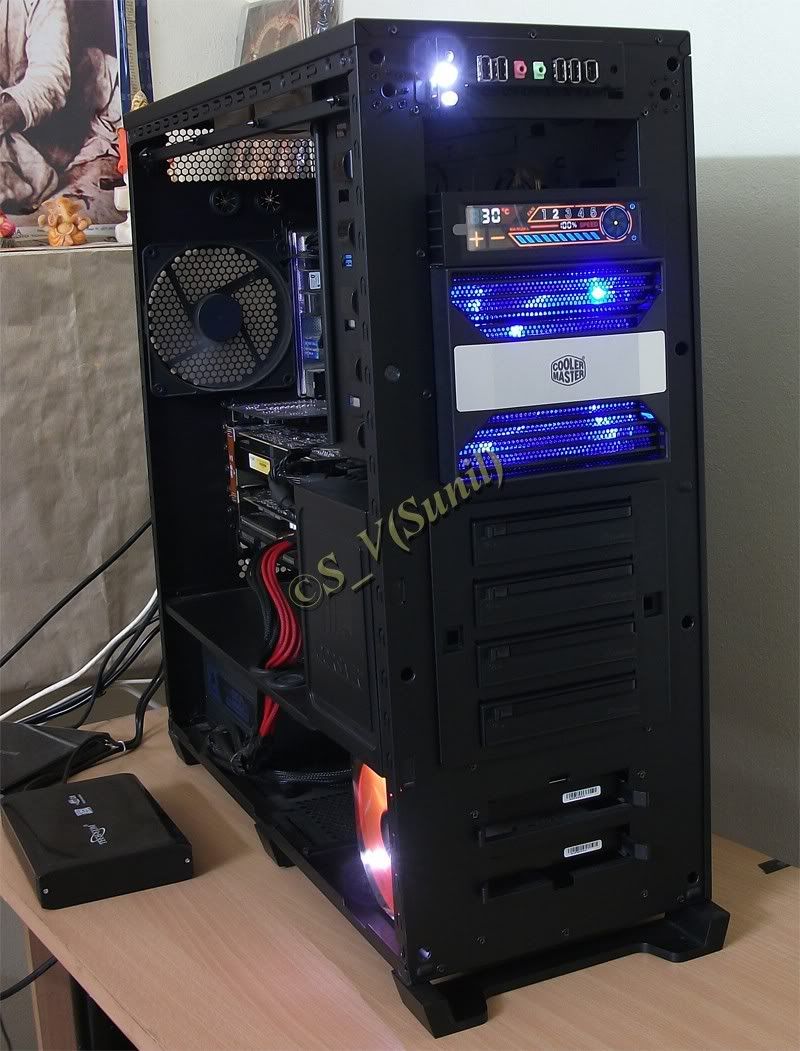 Finally everything Closed and Running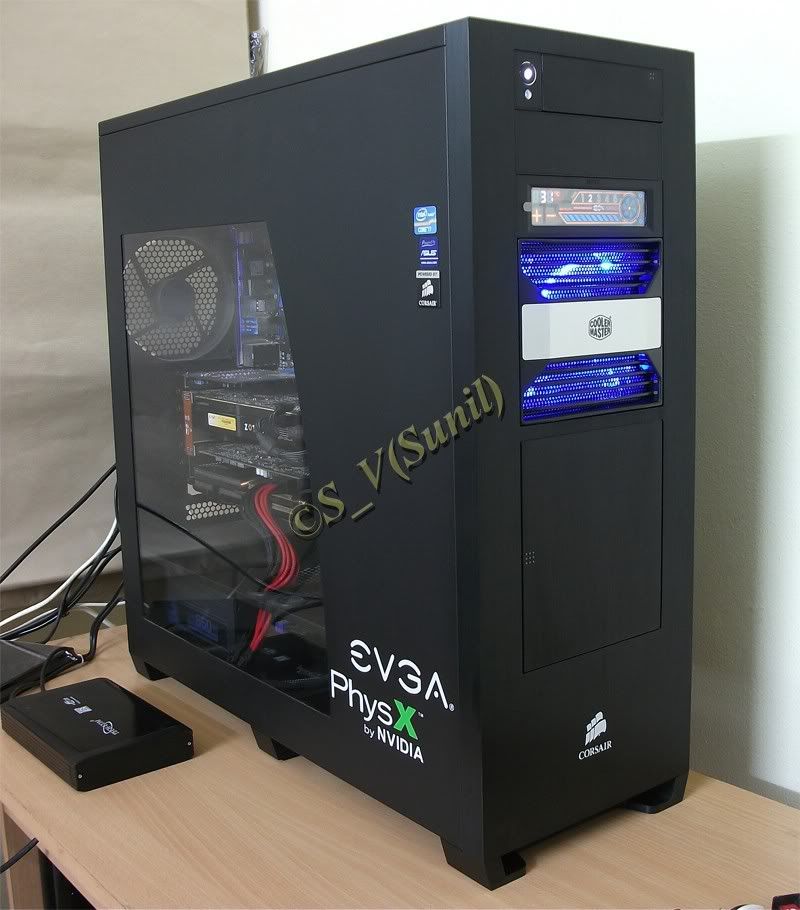 ==========================================================================================================================================================
Gallery:
Includes pictures of each and Every Hardware listed in the Above Tables...
***OLD and Latest Pictures ...so ignore the Hardware difference between shots...
Ok... Let's start with My Fav Hardware
Corsair Obsidian 800D
...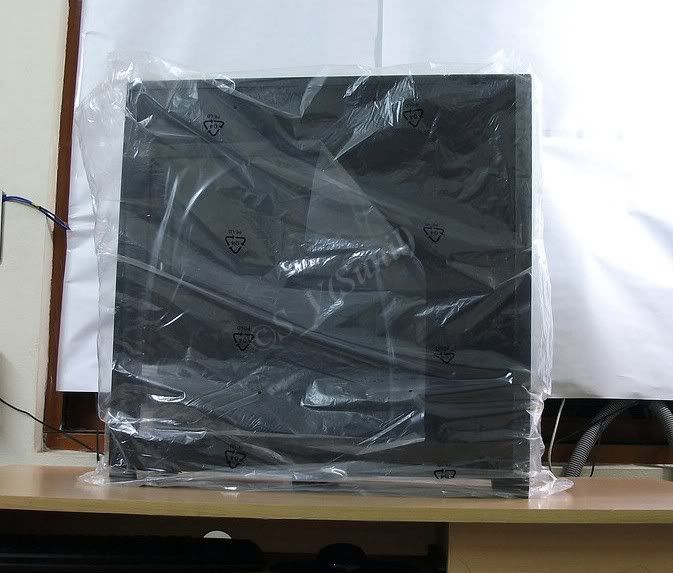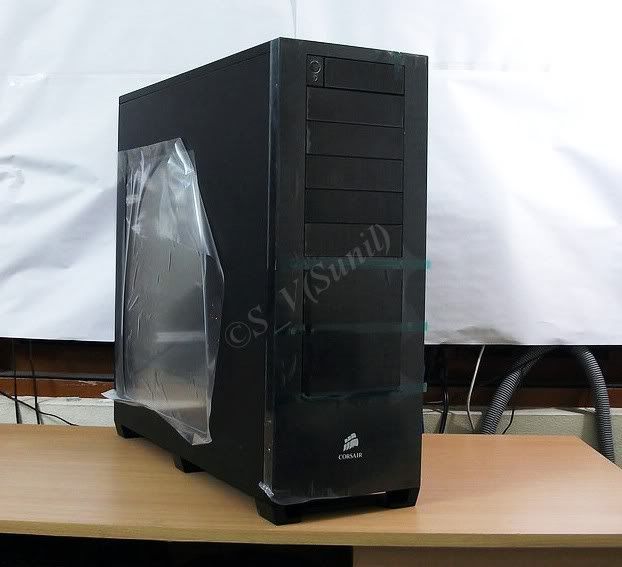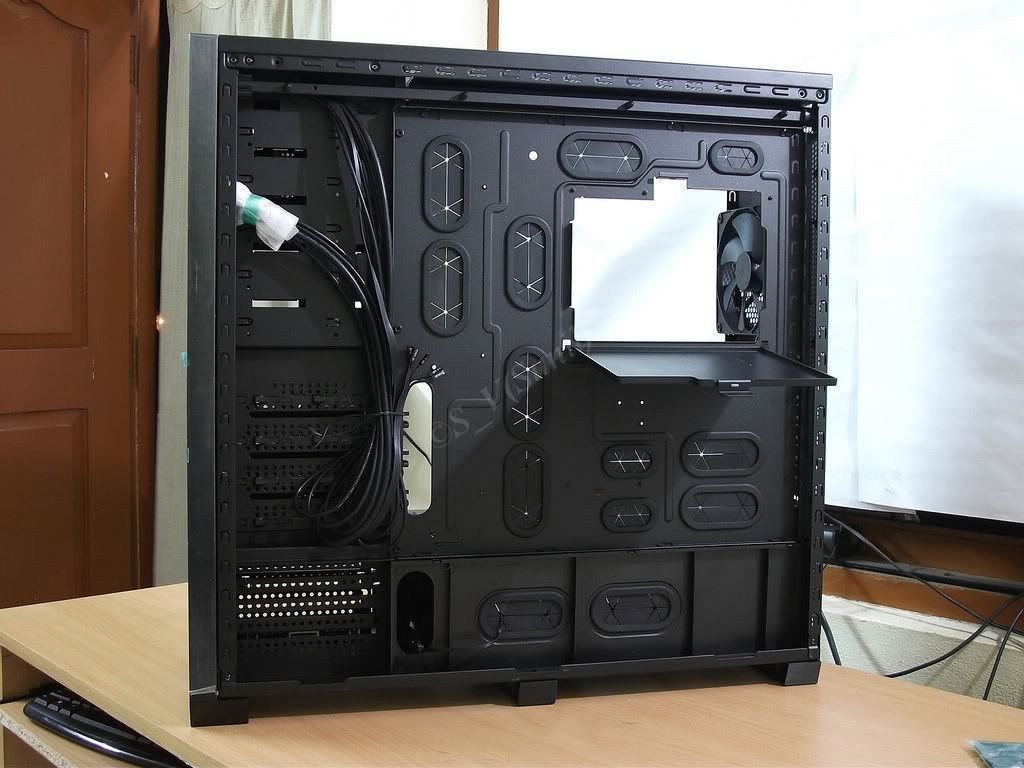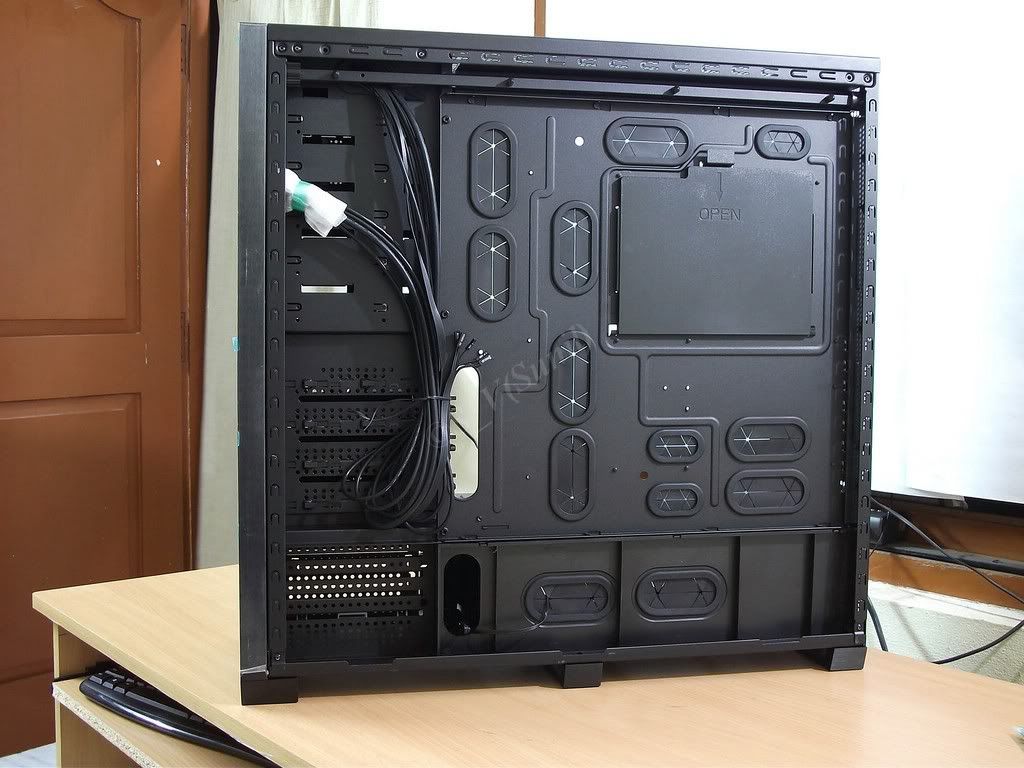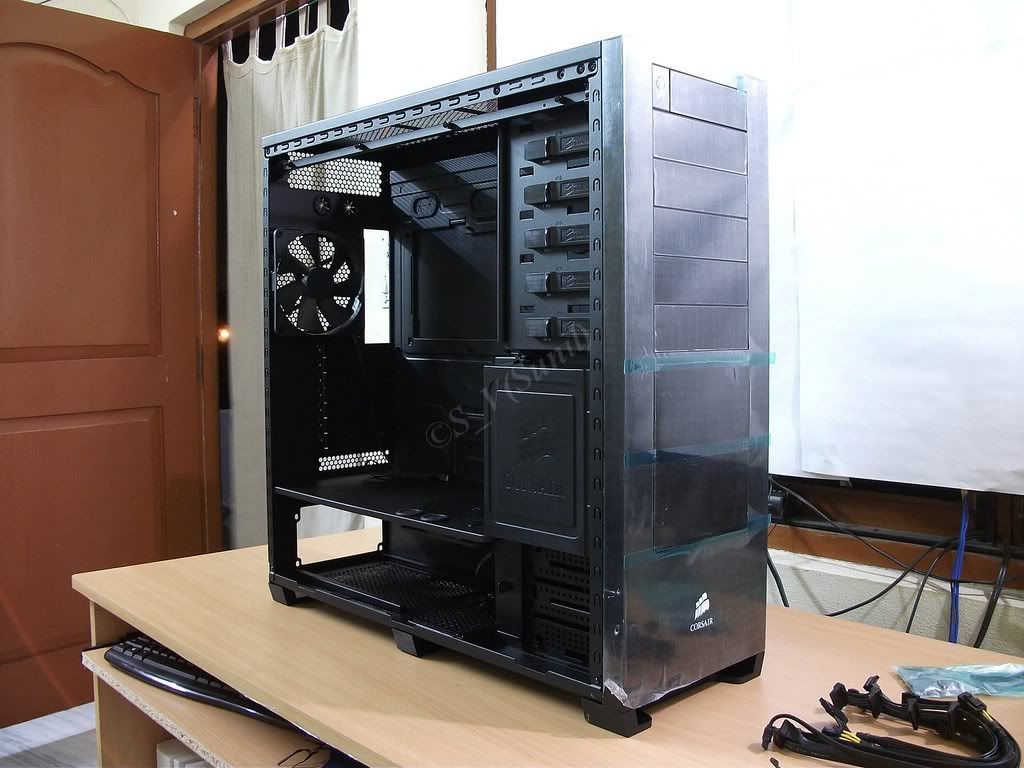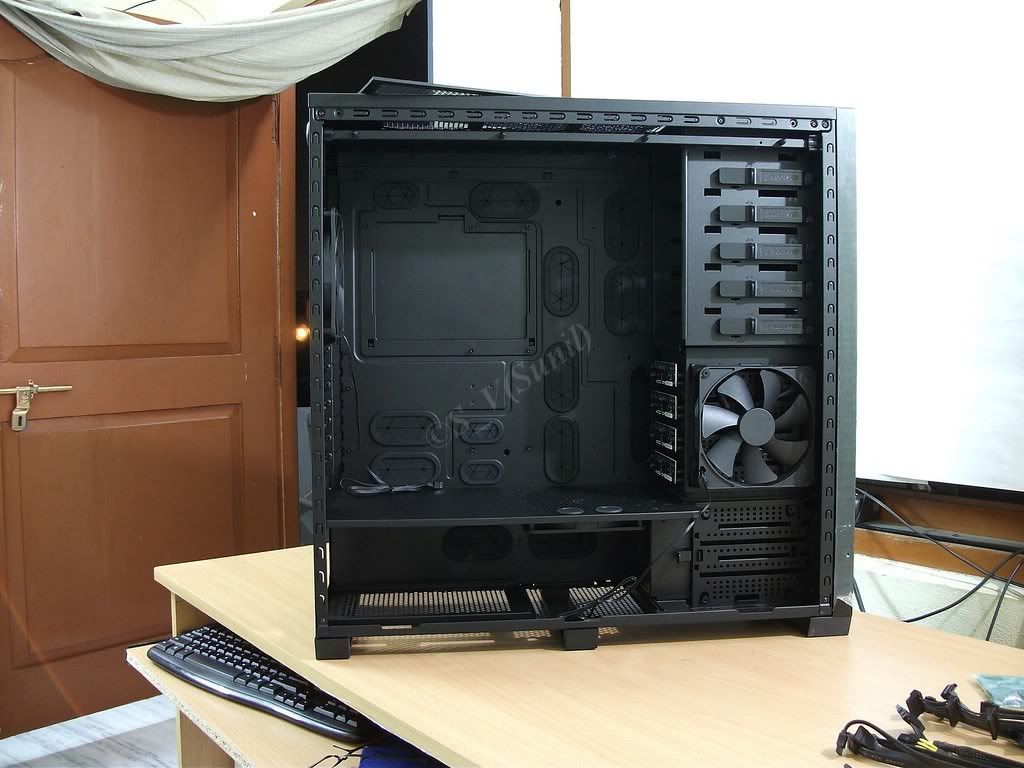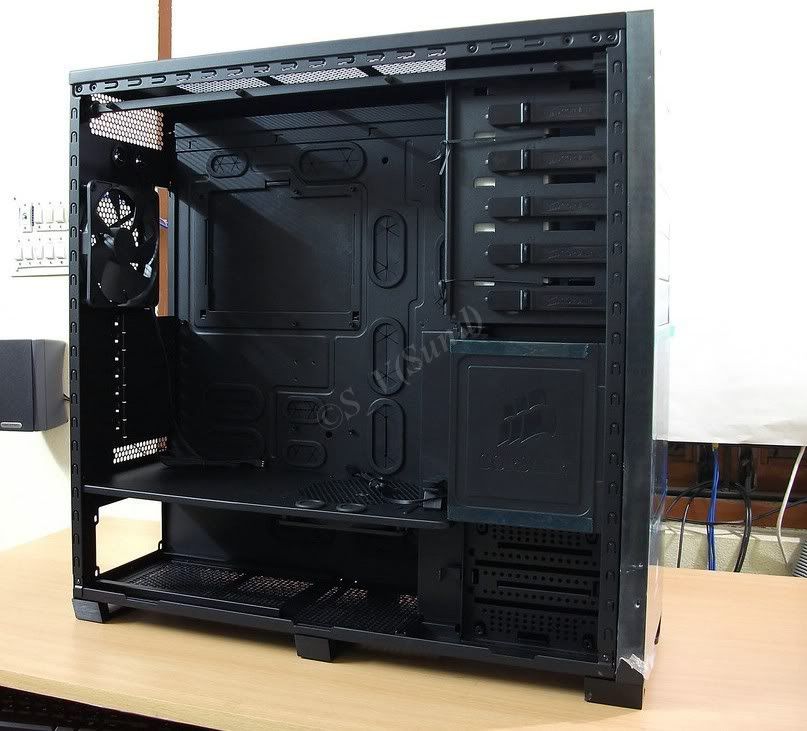 Corsair HX850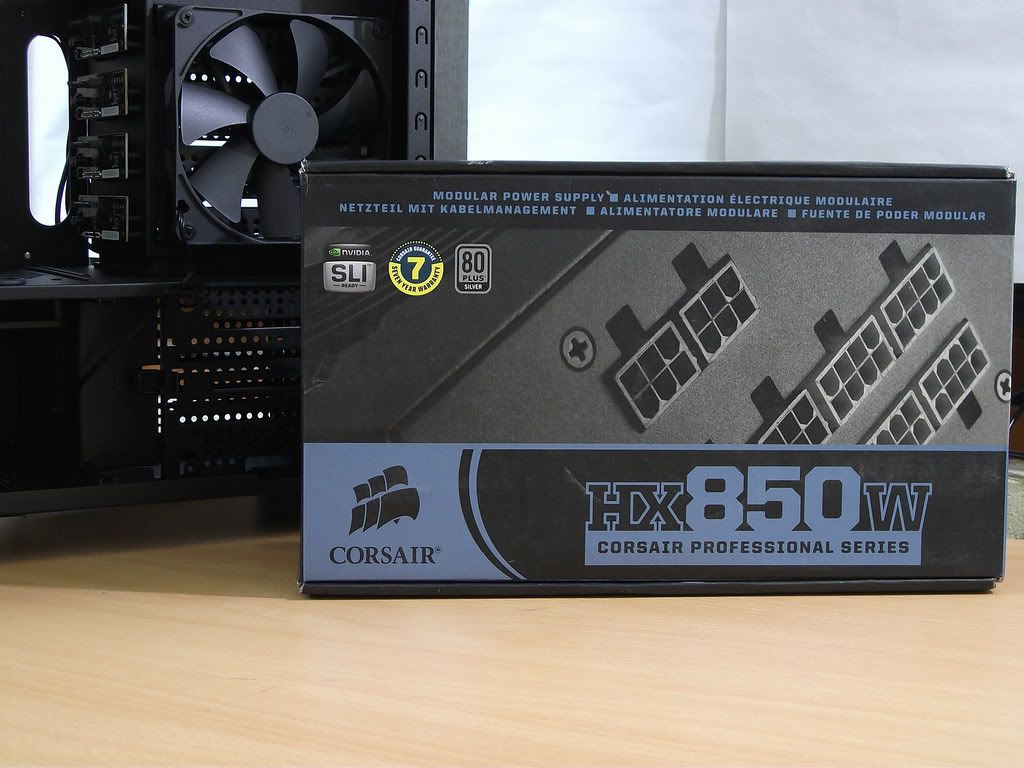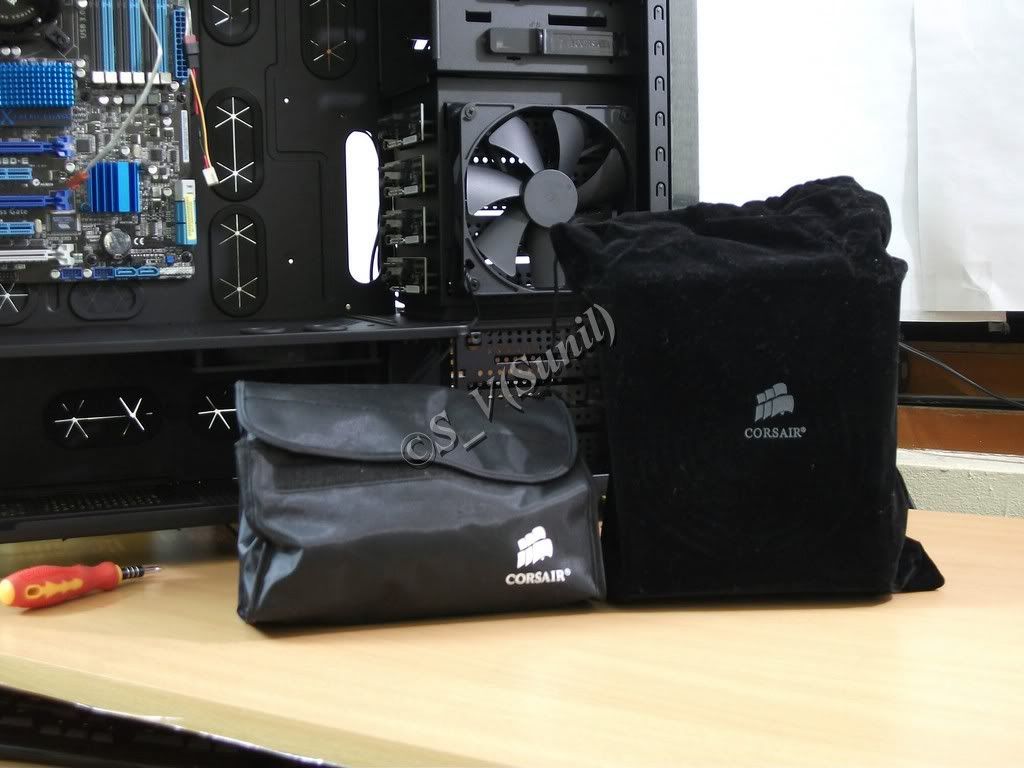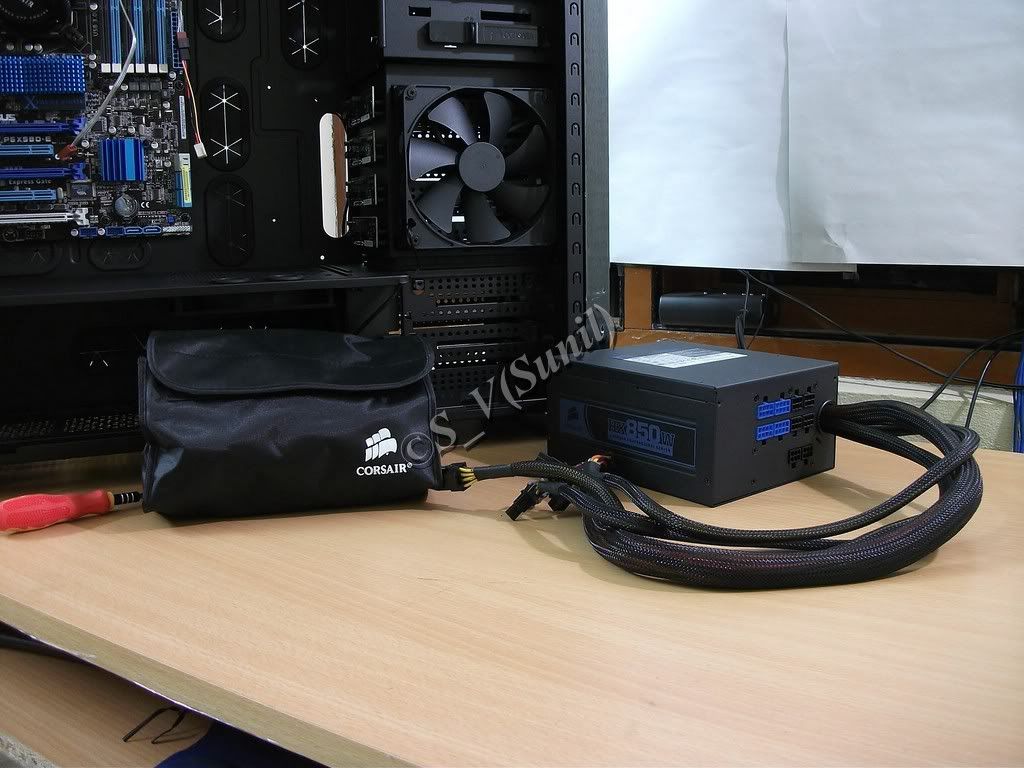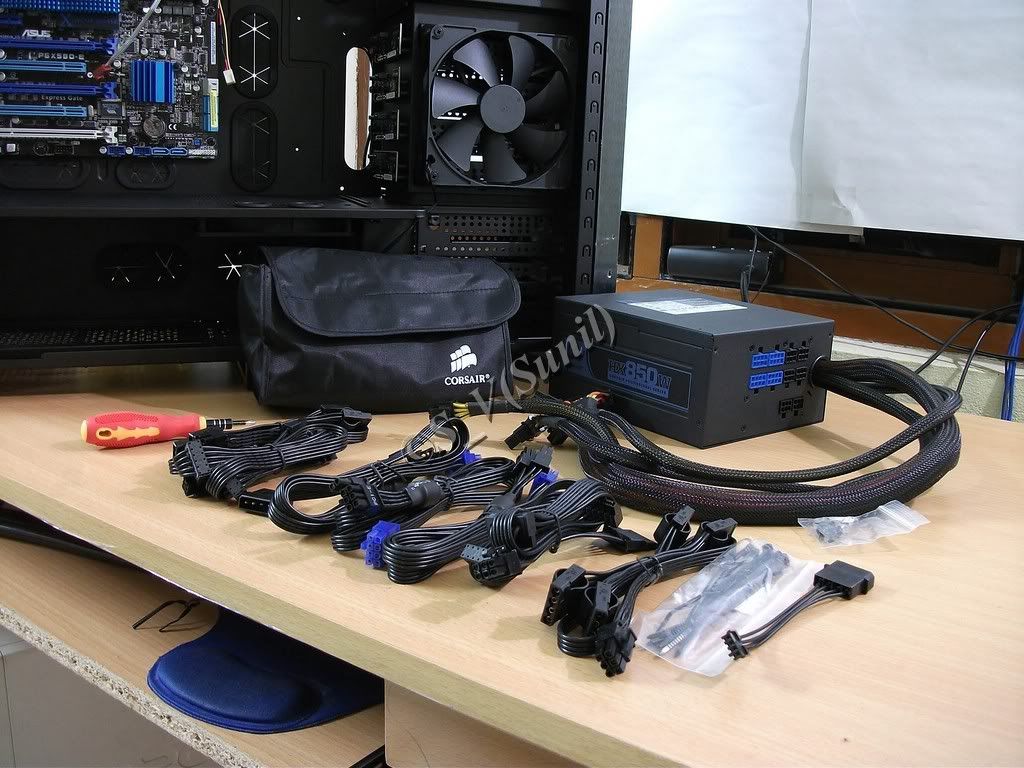 **** There's going to be more and more Pictures......
Last edited: