Case History:-
I own a DV6 6121 tx-
HP Pavilion dv6-6121tx Entertainment Notebook PC | HP® Support
It has two connectors on its mobo where cable coming from Optical disk and HDD are connected. I have shown a pic of the same,if u have any confusion.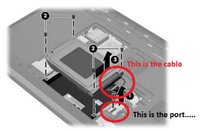 My setup- I installed a SSD in its Hard drive bay,and using a caddy,I installed the earlier 640GB@5400rpm HDD in the optical disk bay. It was working flawlessly till date.
Two days before,I had the HDD replaced by a 750GB@7200rpm drive. Again the setup was same,SSD went into HDD marked bay,while caddy had the 750GB hdd connected to the optical disk marked bay.
Now the problem arises.
Today laptop is stuck at BIOS screen,I diagnosed and interchanged the connectors,which effectively means,my SSD is now connected to ODD bay,while HDD goes into HDD marked bay.And the laptop boots normally...
My queries-
1.Why does this change occur,all of a sudden??
2.Are both the ports SATA III(6Gb/s) compatible??How can I check>>??
3.This is the message shown by Samsung's Software,which came with SSD-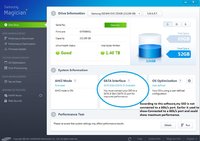 4.While another software shows this-