Hello,
I have recently purchased Toshiba MQ01ABD050 500GB hdd (1 month old) but I am having some issues.The temperature reported by crystal disk mark and hdd sentinel is not ok.I have posted image screeenshot.
This drive's specifiations shows operating temp 0-55 C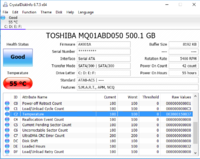 But i also dont think laptop has problem/neither do hdd because I bought one HGST 500gb around 2 year back and the temp of that also use to rise around 55.
But i have one hdd of wd10jpvt 1TB stock which came with laptop.the temp of that hdd use to be ok.
These both HGST and Toshiba cant be faulty?Right?
So what can be the problem?Is this because of summers?Do i need to worry