How China is enslaving the world: Beijing's ruthless leaders subjugate armies of foreign workers with opium, plunder resources across the globe
How China is enslaving the world: Beijing's ruthless leaders subjugate armies of foreign workers with opium, plunder resources across the globe - and now they've got Britain in their sights | Mail Online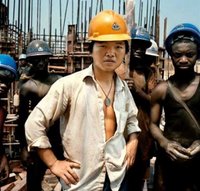 With its gold leaf and marble décor, duplex suites, heliport and fleet of Rolls-Royces, the Burj Al Arab hotel in Dubai is hailed as the most luxurious in the world, a seven-star monument to wealth and extravagance.
To stay there will cost you £2,000 a night. Just to have dinner means parting with a huge deposit per person before you even get to the table. Nor can you simply wander in off the street into the lobby to gaze at the Turkish carpets and watch the fountain play — the Burj rests on its own artificial island.
So who can afford to stay there? Increasingly, the answer is the world's fast-growing army of multi-millionaires from China.
Three years ago, the Chinese comprised just four per cent of the hotel's guests. Now they make up almost a third. Not so long ago, one party from Beijing booked 50 rooms.
China's businessmen are rarely troubled by conscience or consequence

The country runs on brutality, bribery and the natural gas beneath its surface
They travelled in secret to many of the world's poorest and most backward places, in Africa, Asia and South America. There, they discovered how Chinese companies, backed by state-run banks with unlimited resources, are buying up oil, minerals, precious metals and timber to fuel the economic miracle back home — leaving those countries raped of their natural resources.
Their usual trick is to offer 'infrastructure' in return — a few motorways, perhaps a magnificent national football stadium, smart homes for the elite — but leave the bulk of those countries untouched, their people as poor as ever.
In an act of colonialism much more oppressive and widespread than anything the British Empire was accused of, China is subjugating vast tracts of the globe to its economic dominance, and giving virtually nothing back.
Those £2,000-a-night hotel rooms at the Burj Al Arab are paid for by sweated labour and near-slavery on a colossal (and largely hidden) scale. In the foothills of the Himalayas, the authors of the new book came upon a hell-hole where — through a deal with the Burmese military regime — entire mountains are reduced to rubble in pursuit of jade for the jewellery business.
As if in a scene from a medieval imagining of Hades, 100,000 young men pick through the earth day and night, in return for a pittance, risking life and limb from landslides and floods, fortifying themselves on opium and heroin supplied by their Chinese bosses and paid for out of their wages.
Just as it has reached accommodations with the regimes of Iran and Burma, China is also happy to do oil business with Sudan, shunned by other countries because of terror connections and its genocidal policies towards Darfur.
China is happy to do business with Iran — in the face of international sanctions against the regime's nuclear plans. Lured by oil, China has in just five years become Iran's biggest trade partner, with an annual turn-over of £23 billion.
Burma's forests are plundered for wood to make parquet flooring for factories in Beijing and Shanghai to sell to the rest of the world.
But even more horrific in the long term is that the jade goes straight to China. There is no processing plant, no thriving local industry emerging on the back of all this natural wealth. And once the jade runs out, the Chinese entrepreneurs will go, leaving just a vast hole in the ground and scores of ruined lives.
The same thing is happening to Burma's forests, plundered for wood to make parquet flooring for factories in Beijing and Shanghai to sell to the rest of the world, at a vastly inflated price. Meanwhile, in the Democratic Republic of the Congo in central Africa, China has a 30-year contract to extract as much copper and cobalt as it wishes.