EDIT: IT WAS A SHAM!! THANK GOD I ASKED SOME QUESTIONS AND THEY SPILLED THE BEANS!!

Hi,
I have got a quote of 30,500-31k from Lappie World and 99 DEALS.IN From Lamington Rd Mumbai for
Dell Inspiron 5520
Core i7 3rd Gen 3610QM
8 gb DDR3 RAM

1 TB HDD
15.6" 1360*768

Windows 7 Home prem

Nvidia GT 650M 2 gb

Is it normal or too good to be true??
I had a feeling that it would not have 650m GPU but he insisted it is indeed 650m 2gb.
aLSO SAME SPECS IN asus k53 Something quoted at 29k.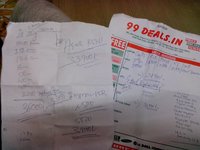 Last edited: