whenever a student in india from physics, chemistry, maths group passes his class 12th then, many of the students give the engineering entrance exams..........there are the conclusions in life, which you expect to have matured at, some time earlier in your life. one is such a discussion relating to the divisions of the engineering colleges in india into tiers. generally the engineering colleges in india are divided into tiers( I , II, III) which signify their "overall quality". the division of the engineering colleges into tiers is completely a vague term and no one can draw a straight line and it purely differs from person to person(obviously on the basis that a person looks at engineering education in india).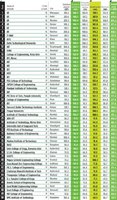 according to me(in the image)
1-18 tier I
19-34 tier II
rest all tier III
99% of the tier III colleges are crap
please follow the discussion to get a more refined view(and in case of any doubt write the "college of the name + review" and google it to know what the people feel about the particular college )
P.S. - list of the college which are least significant and spend crores of money on advertisement and they are never able to make to the top list of any survey(until they pay for it)!!!
eg
galgotias university(not affiliated to aicte)
lovely professional university
sharda university
sikkim manipal university
manavrachna university
rule of thumb
1)"the more a university spends on the advertisement, more a crap university it is". Such universities are made to suck the money in your pocket........only
2)the government engineering colleges are better than the private engineering colleges.
one more thing that i want to suggest to these students that please don't believe any one of your own age on the suggestions given to you by your friends. always ask it on the forum because the person of your own age would only misguide you.
Last edited: