I dont know why but ASP isnt working properly in web browsers(IE, Firefox, Safari).
ASP code is displayed in the browser instead of the output.
I didnt do anything to any ASP settings since last time it was working.
Even a simple code like this isnt woking: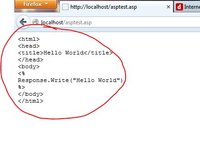 Tried clearing cache using ctrl+f5 in firefox, but that also isnt working.
Pls Help.
Guys pls reply. Pls help