I ma using BSNL BB 1450 Plan for last 2 months.
Using TP Link W8968
I was getting good , stable speed.
always above 100 KBps.
Download speed was 100-120 KBps
For last two days download speed and browsing speed went super slow...
I am getting 25 KBps and slower . Sometime no activity.
Tried with both default DNS and Google DNS.
Firewall on and off.
First I thought its my PC and re-installed OS.
Same issue.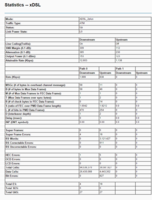 I have uploaded the modem status screenshot here.
I am 2.5 to 3 KM away from exchange.
I believe my rates are bad , is there anything I can do to make to good ?
Speedtest results say a different story ...
Speedtest.net by Ookla - My Results
and
Speedtest.net by Ookla - My Results
Last edited: