Myself is using a broadband service provided by local cable operator at Siliguri (Cyberoamclient).
log in application is not working everyday when I try to run it for the 1st time.
If I connect a data card to my laptop, the application runs !!!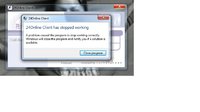 I have checked in task manager - if I set the priority of the application to high, it works but next day it will again stop working.
Attaching a screenshot of the error. & the event log info as get from event viewer.
View attachment ERROR REPORT.txt
please advice solution.