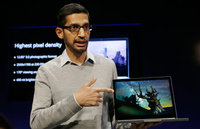 Sundar Pichai, the Indian American computer engineer in charge of Chrome and Apps at Google will take over the Android division at the company, the search giant announced on Wednesday.
Pichai, who joined Google in 2004 will replace Andy Rubin at Android division.
Pichai who was raised in the South Indian state of Tamil Nadu is a graduate from the Indian Institute of Technology- Kharagpur. He holds a masters from Stanford and an MBA from Wharton.
Sundar Pichai To Lead Android - Business Insider