Micromax overtakes Samsung to become leading India handset vendor in Q2
Read more at:
Micromax overtakes Samsung to become leading India handset vendor in Q2 - The Economic Times
NEW DELHI: Micromax has overtaken Samsung as India's leading handset vendor, capturing 16.6 per cent market share in the April-June period as against the Korean major's 14.4 per cent, according to market research form Counterpoint Research.

The duo were followed by Nokia and Karbonn with 10.9 per cent and 9.5 per cent shares respectively in the just ended quarter, a Counterpoint Research report showed. In the previous quarter ended March 31, Samsung had led the overall market with 16.3 per cent share followed by Micromax with 13 per cent.

The overall mobile phone market grew a modest 2 per cent annually, while the smartphone segment grew 68 per cent. Falling demand for feature phones, which fell 16 per cent in the quarter, had weighed on overall sales, the study said.

In the smartphone segment, Micromax solidified its presence with 19 per cent share but remained the second largest Indian smartphone vendor. Samsung maintained its leadership in this segment with a 25.3 per cent market share.

The research firm said that Micromax had widened the gap with the third largest smartphone player as the race for the third place is up for grabs with fierce competition between Karbonn, Motorola, Celkon, Nokia, Apple and Sony.

On Micromax's performance in the second quarter, Neil Shah, research director, Devices & Ecosystems at Counterpoint Research said, "This is the vendor which mobile industry will have to keep an eye on as it expands beyond domestic markets."

"The surprise performance was from Motorola thanks to its attractive but leaner portfolio of Moto X/G/E and go-to-market strategy. The brand which could soon be part of Lenovo has built a strong base in the high volume India smartphone market, entering the top five rankings surpassing Nokia, Apple, Sony and others," Shah said.

Karbonn is presently the third largest smartphone vendor with 5.9 per cent market share, followed by the resurgent Motorola, which grabbed a significant 4.3 per cent share in the quarter, riding on the success of Moto E and Moto G smartphones.

Micromax also became the leading feature phone supplier overtaking Nokia for the first time with 15.2 per cent market share, while Nokia had 14.7 per cent market share at the end of the second quarter. Karbonn, Samsung and Lava held 11.4 per cent, 8.5 per cent and 7.3 per cent feature phone market share, respectively.

Globally, Micromax also jumped up the rankings becoming the 10th largest handset brand in terms of mobile phone shipment volumes, the research firm said.

"We will see intensified competition in the Indian smartphone space as Asian OEMs such as Xiaomi, Gionee, Huawei and Asus enter with premium-like hardware at an aggressive price-point attracting young tech-savvy but price-conscious urban buyers," Shah said.

"However, these brands will have to work hard on their brand awareness, distribution and service network to continue the growth beyond the early spike in demand in this very important mobile phone market," he added.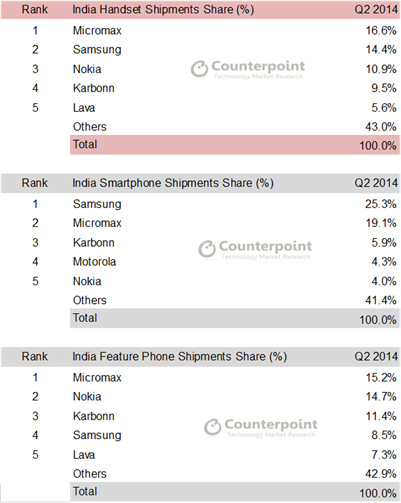 source:
Micromax claims top spot in overall handset sales in India, Samsung still leads in smartphones; Motorola No 4 - Financial Express