Hello Friends.
I am new in this forum and have a serious problem with my modem. Hope you all can fix and solve my problem.
As I am a laymen in this field and live in a backward district. I brought this modem and got it configured from BSNL as I took the broadband connection. After reaching home I cannot access internet both by Wi-Fi and by using Port.
The mobile phone I am using is Nokia lumia 625 ...
The IP Address is 192.168.1,100
Subnet mask is 255.255.255.0
Default Gateway 192.168.1.1
DNS 192.168.1.1
DNS Suffix is None
MAC Address PC-92-3B-xx-52-xx
I dont know whether it is correct. Please give me a link to the site where I can fix the IP address if it is wrong.
The laptop I use is Dell Inspiron 1525 and there the status is as shown in the snap shot. Hope you can help in fixing the problem.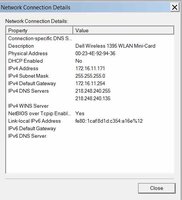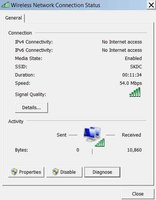 Thanks.
Last edited by a moderator: