CyberdyneSystems Model101
Hi guys . Just bought the core i7 4770 (non K) . The reason why I went for non K CPU because I wasnt much impressed by the overclocking abilities of haswell. Now I need a good quality motherboard for it. Please suggest . It has to be durable, i.e. good quality. (Mobo should Last long)
I have short listed :
1>ASUS H87 PRO
2>MSI H87-G43 Gaming
3>Gigabyte H87-D3H
Please suggest any other mobos as well.It has to have good quality VRMs and heatsinks , must have ATX from factor. Budget around 10k
I have the following concerns/queries :
Can I use my existing RAM modules in these mobos? As memory modules have become too much costly, I will upgrade the RAM later when the prices are reduced .
I am attaching screenshots of the RAM. The memory modules are as follows :
2x 2GB Kingston
2 x 2 GB Patriot
These are 1333Mhz. How much will it impact gaming if I keep them ( instead of buying 1600Mhz ones)
GPU and PSU:
Currently I have a MSI GTX460 Cyclone OC . The PSU that I have is Corsair VX550(3.5 years old)Will upgrade to GTX770 or R9 280x in some 1-2 months. I m not sure if VX550 can handle the GTX770 or R9 280x. Please comment on this. If it cannot handle , it means that I need to buy new PSU also. Will buy CORSAIR TX750 V2( There is not much price diff between TX650 and TX750) ONLY if vx550 cannot handle either of the cards.
It is urgent , as I have already bought the CPU.
Thanks a lot for reading !
PS : Going for intel rig after a long time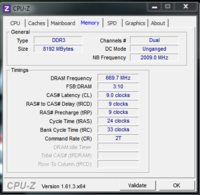 Last edited: