Hey Guys
The time has come for me too upgrade my 4gb Ram to a 8gb ram (4GBX2).
Right now i own a Gskill ripjaws X 4gb ram stick.
1)Now the maIn thing that i am worried about is that should i go with the EXACT same model?
Do i have to find a ram stick with the same frequency and cas latency?
2)How do i find out the exact specifications of my ram? Can you guys please look at the following picture and tell me what my ram specifications are? Is it 11-11-11-28? 800mhz?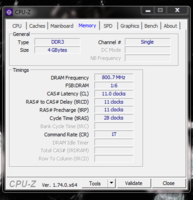 I would be grateful if someone could paste the link of the ram from any online store which delivers in Delhi (Amazon,Flipkart).
Thankyou guys