Hello there,
I recently bought a second hand Lenovo T410 which is suppose to have a inbuilt graphic card. But when I checked the system after purchase
I found the system had no? graphic card installed. Screenshot attached. I'm confused.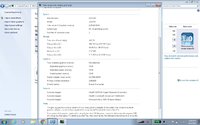 The reason for the post is, the laptop comes with a digital port, and I want to connect the laptop to my TV for watching movies and stuff. But before I order the Digital port to HDMI converter, I want to understand if this laptop is capable of sharing its screen with my TV. The display looks pretty old, and the resolution supported is 1280x800.
Thank you for your help.