i was successful to add leeco le 2 mobile(flash sale )to my cart and made the payment through debit card and my order was also processed.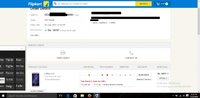 after one hour i received a message saying my order has been cancelled and the refund has been initiated.
i am totally frustrated with flipkart .
i wasted almost 1 hr seating before my pc to purchase this mobile and flipkart rejected it without any information.,...very disappointed.