Well here is the leak of ATI Radeon 8800 Series

which well their next.. GEN CARD(s)
Apparently VideoCardz received some insider information on the AMD Radeon HD 8800 series. Codenamed "Oland" the new HD 8800 series will be using the same process as the current GCN based "Pitcairn" cards, but do seem to up the ante with a much higher transistor count, in addition to some seriously high clock speeds as well as boosted speeds.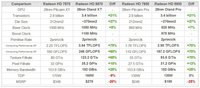 What's interesting to see is the lower price point, especially with the HD 8850 that, on paper at least, seems to be better than the HD 7870.
Time will tell if this leak is true
, but in case it is, the next generation of cards from AMD seems to be an exciting times for PC gamers where AMD will once again be competing not just on performance, but price as well.
If you want
SOURCE
btw looks really very Gooood in(PRICE

)