Right off the assembly line
Hi,
I am planning to upgrade my current Windows XP PC to Windows 8.1. However, I am not sure which hardware parts I need to upgrade for this. The upgrade assistant simply says I cannot install Windows 8 on this PC. Please see the configuration below. I am not sure which parts should be upgraded. See the current configuration information below in the .jpg file.
I am currently on a AMD Athlon II X2 250 processor and GigaByte GA-880GM-UD2H Mother Board. Not sure if the mother board also needs an upgrade. I currently have 2 GB RAM. All these are ~4-5 years old and I have not updated any software or hardware on this.
Please suggest on the following:
I know Win 7 requires 4 GB RAM for decent performance. Does Win 8.1 need more?
The system requirements site asks support for PAE, NX, and SSE2. How do I know if my processor has that support?
I see from AMD's website that this processor has both 32 bit and 64 bit support. Does this mean, I can install a 64 bit OS on this?
Do I have to change anything in the Mother Board to install 64 bit OS, if I can install that?
I will take a call on budget based on the recommendations about the current configuration.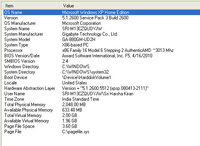 Regards,
Sri Harsha.
Last edited: