My recent shopping experience with Infibeam have forced me to write what most others were writing on some other feedback/review portals i.e. "Do not shop on Infibeam", now coming on to my experience..
under order id--> 12142103 on Nov 30, 2013
for a mobile for my Brother's Birthday, and to make sure that the order is delivered before the special occasion I called up their CC Team and they assured of delivery before the special date 6th DEC,
but in-vain nothing reached on or before the promised day, thanks to their super slow logistic partner DOTZOT (DTDC)

, left the thing as it is and did not complain a word;
but the next shocking part within 2 days of use the cell phone stopped working;
I raised a help request with the portal's help form submission and as no replies came in I contacted them through messages on FB and thank god this time they replied but only to receive a shocking answer that take the cell phone to the nearest service center to which I reminded them of the 30day replacement guarantee and boom they disappear and stopped replying....
and the next order no.--> 12142773; suborder no.--> 21230385; for which I again contacted them on FB and don't know why they again replied; this time the problem was that sent me a leftover from their inventory (DEC'12) that too an essential mobile accessory (battery) for which their reply was as quoted
"Thank you for contacting us.
Apologies for the inconvenience caused, we have escalated your concern to the specialized team to get it resolved at the most priority.
We'll surely keep you posted on the every step being taken to resolve your concern. "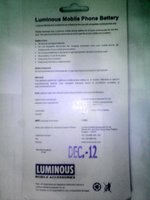 and for other readers all this conversation was done on 14th DEC in the afternoon and yet to receive a reply.
after the experience with Infibeam some things which my fellow shoppers should find useful are
==>>their 30 day return policy is just a catch to lure customers, it's useless; read all the points on their shopping portals;
(don't know if the below point is true or not because I have not faced it but as I was going through some other complaints on a forum and came across it)
==>>return expenses are to be paid by the customer if not waiting for reverse pickup is a mess and dispatch of a new product takes months and sometimes never
==>>their logistic partner in most cases is chosen according their profit ratio and in most cases they pickup the least expensive (as one of my order came through bookmypacket and figured out why they chose DTDC for my area; a same date order as of my first mentioned order no with Amazon reached me on 3rd DEC via FEDEX)
was an affiliate for them few years back but then they were good don't know what happened to them?
any ideas?
Last edited: