1. *Model number and details:
A)
hynix(HMT125R7TFR8C) 2GB 2Rx8 PC3 -10600R 9-10-B0 (2 Pcs)
URL:
http://www.hynix.com/datasheet/eng/module/details/module_20_HMT125R7TFR8C.jsp
Power Supply: VDD=1.5V (1.425V to 1.575V)
VDDQ = 1.5V (1.425V to 1.575V)
Backward Compatible with 1.5V DDR3 Memory Module
VDDSPD=3.0V to 3.6V
Functionality and operations comply with the DDR3L SDRAM datasheet
8 internal banks
Data transfer rates: PC3-12800, PC3-10600, PC3-8500
Bi-Directional Differential Data Strobe
8 bit pre-fetch
Burst Length (BL) switch on-the-fly BL8 or BC4(Burst Chop)
Supports ECC error correction and detection
On-Die Termination (ODT)
Temperature sensor with integrated SPD
This product is in compliance with the RoHS directive
B)
Samsung( m393b1k70chd-ch9Q5) 8GB 2Rx4 PC3-10600R-09-10-E1-P1 (2 Pcs)
URL:
http://www.ebay.com/itm/SAMSUNG-DDR...D&orig_cvip=true&rt=nc&_trksid=p2047675.l2557
Type: DDR3 DIMM SDRAM
Capacity: 8GB
Rank: 2Rx4 Dural
Brand: SAMSUNG
MPN: M393B1K70CH0-CH9
Number: of Pins: 240
Bus Speed: PC3-10600 DDR3 1333MHz
Typical Operating Supply Voltage: 1.5V
Registered: Yes
ECC: Yes
CL 9, 1.35V
2. *Date of purchase: GOT AS A GIFT
3. Reason for sale: LYING SPARE WITH ME.
4. Warranty details: NOTHING. 5 days testing warranty will be given. I do not have personal server to test hence CPU-Z is not possible.
5. *Expected Price: A) 1400 EACH
B) 4000/- EACH
ALL NEGOTIABLE
6. *Location of Seller: KOLKATA
7. Preferred Courier: DTDC OR SPEEDPOST
8. Shipping Charges: Free if not bargained or else as stated by courier service.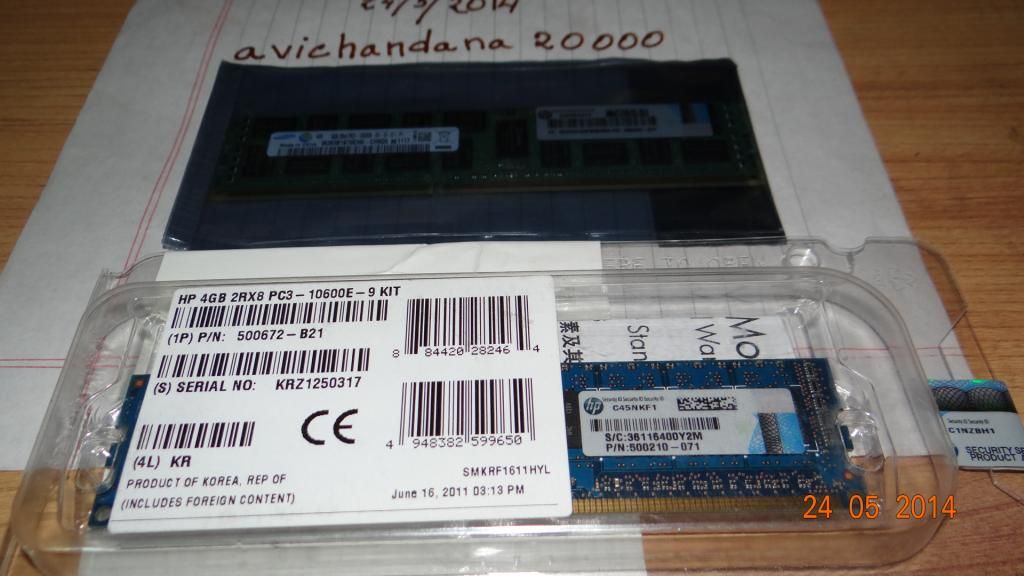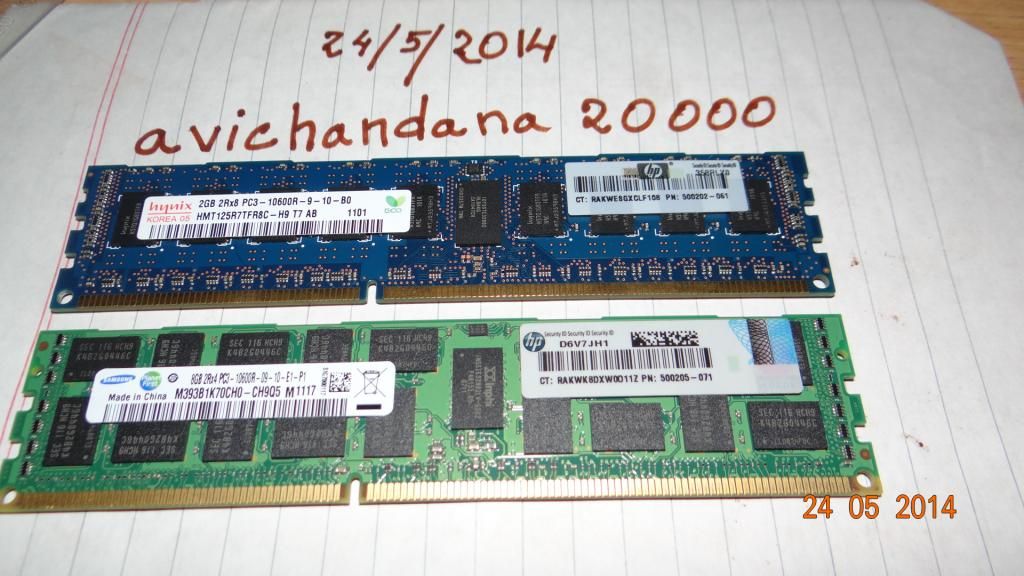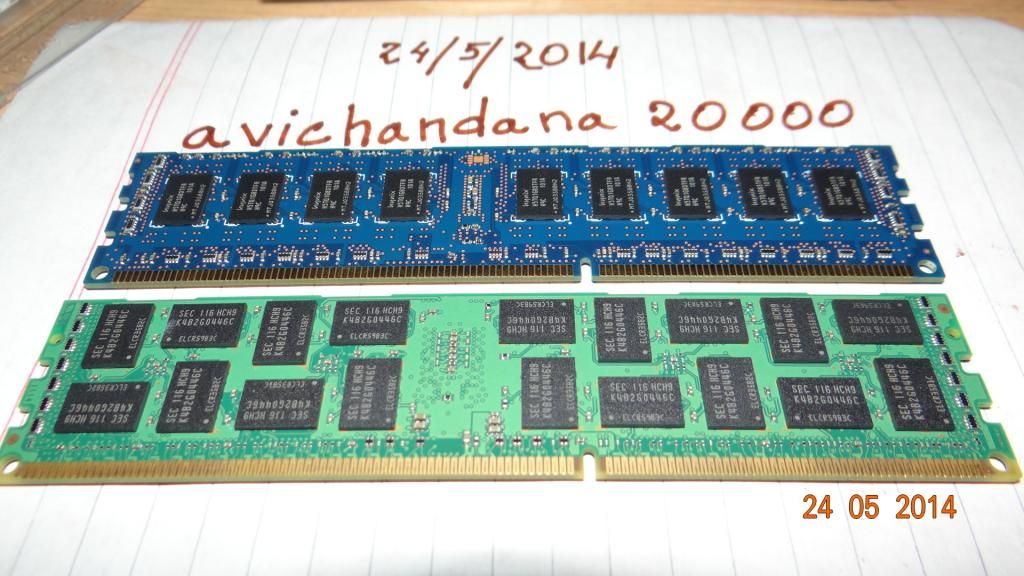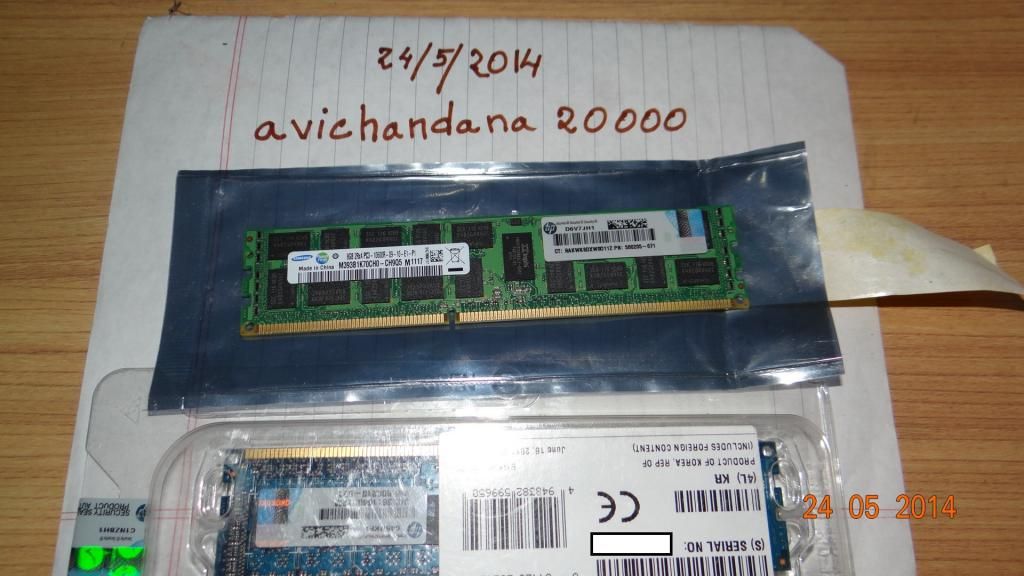 "
• Troll as much as ud ike to do....It'll only help me keep the thread on top.
Price is really good Considering the present Market prices.
•
Price is based on current market prices to get a quick sale
•
Price is negotiable only if u post valid links of the said product and not some lower quaility/Performance product
•
Im not interest in stories and offers from ur "dildaar" local dealers. Famous Dealers like Golcha, MD computers Etc. will be considered, if there is a proof of offer (Screenshot of mail, listing on website).
•
Please Do not ask me for a 'best price'. This is the best price according to me. U can drop in ur offer. I will consider it.
•
Please provide me upto 24Hrs to ship the product, Shipping cannot be done on Sunday.
•
In case of any damages cz of transit Buyer has to pay return Shipping charges himself + He will have to bear the shipping charges again if he wants me to ship the product if it can be fixed , else ill refund the money for the product (excluding shipping charges). In any case, i will give the best possible Packaging to avoid such a scenario
• No Holding. Who ever makes payment first gets it.
•
Ridiculous offers will be ignored and notified to the mods*
•
If u have any suggestions such as "Dude, there is another guy selling the same thing for XXXX amount, u should lower ur price" , please send me a PM , i will reconsider the price. Of course u can post it on this thread and make it stay on the top, but i'd still rather prefer the PM route.
"
Last edited: