Guys I was using a Micromax A110 Canvas 2,
I recently heard that micromax had officially launched jelly bean for my phone.
So I googled online how to update my OS.
Followed the procedure as per this website,
iGyaan.in | DIY: Upgrade Micromax A110 Canvas 2 To Android 4.1.1 Jelly Bean
(tried to update the OS using SP tools but turns out my phone has become dead)
This is the error which i got,and the phone is not starting after that.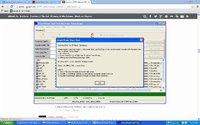 I'm really new to all this rooting and all.
Could anyone give me a step by step procedure if anything could be done about my dead phone.
Sorry if i have posted in the wrong category.(please do inform me if I need to change the category)
P.S If i dont get the phone working by today evening I'm dead Meat( dad's gonna kill me..

)