I have a Lenovo Y500 laptop with a 120GB Crucial mSATA SSD in which the OS is installed(cloned the earlier C drive).
Nowadays, when my laptop starts, its CPU usage skyrockets to 90%(even upto 100%) for about 4-5 minutes, then it settles down. This is when power is connected. When its running on batteries, max CPU frequency is 1.17 GHz, so it tskes more time to settle down.
During these 5 minutes everything else runs fine, except for games n other CPU intensive tasks. So how can i solve this problem without reinstalling the whole OS ??
Screenshot: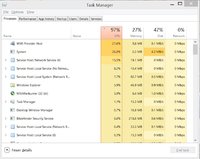 Last edited: