Blitzkrieg, 19-21 Oct, is the gaming tournament at Tathva, the second largest tech-fest of South India, at NIT Calicut.
Featuring the hottest games on the e-sporting scene right now --
DotA
Counter-Strike 1.6
FIFA 2012
Need for Speed: Most Wanted
and for the first time ever in Kerala experience -
3D Gaming in our Arcade Stall
The top gamers from Kerala, Bangalore, Mangalore, Chennai and the rest of India make their mark in this tournament so come fight it out, display your l33t skillz and win some serious cash!
Check out the Tathva '12 website Tathva '12|National Institute Of Technology Calicut for rules and regulations!
Venue-
Computer Centre
Tathva '12
NIT Calicut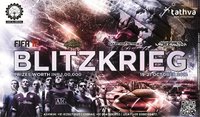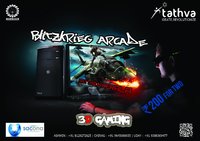 Prizes-
DotA
1st place : Rs. 30,000/-
2nd place :Worth Rs. 6,000/-
CS1.6
1st place : Rs. 30,000/-
2nd place :Worth Rs. 6,000/-
Need for Speed : Most Wanted
1st place : Rs 3500/-
2nd place :Worth Rs 2,000/-
3rd place : Rs 500/-
FIFA 12
1st place : Rs 3500/-
2nd place : Worth Rs 2,000/-
3rd place : Rs 500/-
Contact-
Ashwin Mathews
+91 8129272625
Uday Bhartia
+91 9388369477
*www.facebook.com/events/363936997025335/