Hello Friends,
I am getting good deal for Just Cause 3. I checked whether my system will be able to handle it or not.
Can You RUN It | Can I run that game | Game system requirement
says no. But the specs in my system are more than the minimum suggested-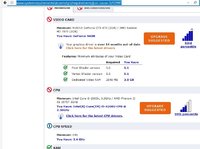 Check required, you have columns. Or do I have to just check the video card thing?
Also is gaming recommended on a laptop? Say 6-7 hours a week.
Thanks