I had a two year old AMD system rig which I had assembled myself. Though there are no problems with the system, the CPU temperatures are looking a bit odd to me. My config is as follows
Processor: AMD A10-5800K
Motherboard: Asus F2A85-M
RAM: Corsair Value select 1600 MHz - 4+4 GB
Kingston 64 GB SSD as boot drive
WD 500 GB HDD
Processor is running on stock cooler
Bitfenix spectre 120 MM (1000 RPM) and Cooler master 120 MM, 90 CFM fans as side intake fans
Bitfenix spectre 120 MM (1000 RPM) as rear exhaust.
No overclocking made
HW monitor is showing CPU temparature as 36 degree celsius
Package temperature of CPU as 57 degree celsius
Motherboard temperature as 41 degree celsius
I am guessing this package temperature touches upto 61 or 62 degree in hot summer.
So are my temperatures stable and cooler? Do I need to change any of my fan setup? If yes, please suggest a silent and efficient fans as I severely hate noisy fans and like a silent CPU rather than a jet engine besides my ears.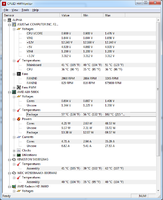 Thanks in advance.